Intro
Disclosure:
A sample or samples were provided by the brand / company.
My test and thoughts about the moisturizing and brightening Bio Essence Intensive Conditioning from the Korean skincare brand IOPE.
The IOPE Bio Essence Intensive Conditioning is not a newcomer in the world of Korean essences. It's even an old-school "First Essence", and well, it's been a while since we've talked about one of these, right? If you talk K-Beauty fluently, you're no longer a stranger to this concept, I guess! If you don't, stay right here, I'll be your interpreter 😉
If I had to choose my favorite category of K-Beauty products, it would definitely be essences! I discovered them when I first got into Asian cosmetics and there was no turning back! I've tried a lot of them and I intend to keep on doing it!
If you don't know them yet, essences are like a sort of beauty waters, skincare products in liquid form. The thickest ones can have the texture of a very liquid, slightly viscous gel. In general, they are highly concentrated in moisturizing ingredients, but also anti-aging, radiance and/or soothing actives.
Their texture is usually a bit thicker than conventional toners, but they're also much thinner than most serums. In fact, essences don't have the same function as these two categories of products.
An essence is a kind of pre-care product that will allow the skin to benefit optimally from all the other products you're using in your routine, especially the serum that is applied on top. It prepares the skin to receive the other treatments and it will also have a very moisturizing, even treating action depending on the formulas!
The essence we are looking at here, even belongs to a distinct category of essences, the First Essences, which are usually used first in a routine.
I was thrilled to finally discover this Korean essence that has received so much praise in the land of morning calm! Let me tell you more about my experience with the IOPE Bio Essence Intensive Conditioning and whether, in my opinion, it deserves its reputation or not 🙂
Skincare
Do you need an essence?
Recently, and probably thanks to the influence of Asian beauty, a new type of product appeared on most skincare addicts radar: essences. Like a kind of "beauty water" or "liquid skincare", an essence is a hybrid liquid product that is a cross between a toner and a serum. Can it replace them or do you have to add it to them? I'll tell you everything you want to know about essences!
Read more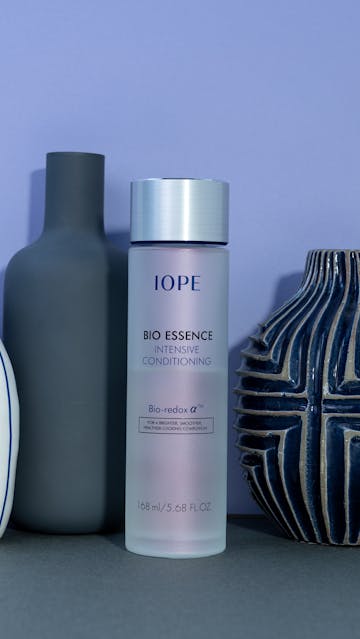 IOPE Bio Essence Intensive Conditioning, product presentation:
When it comes to discussing the best of Korean essences, the IOPE essence is often included in the batch. It really has its fans, especially in Korea, where it's considered to be one of the top ones!
It has been on my radar for a while, but I never took the plunge (It was meant to happen sooner or later though!)! I was lucky, a distributor of the brand sent it to me to test it so I could finally see what the fuss was all about.
Like the famous SK-II Pitera essence, or its dupes like Missha Time Revolution FTE or Secret Key FTE, Iope Bio Essence is based on fermented ingredients. The saccharomyces ferment filtrate and the saccharomyces ferment (apparently a different form of the filtrate) are at the heart of its formula.
Ferments in cosmetics are very popular because they're really versatile! They're supposed to help stimulate the natural skin defenses, they are used to purify acne prone skin, to help rebuild the skin barrier of sensitized skin and also protect the skin from pollution thanks to their antioxidant properties. They also have a brightening effect, to get the famous Korean glass-skin look!
In short, it's easy to understand why these fermented ingredients have been worshipped for a long time on the Asian continent, and frankly, what's not to love? 😉
IOPE is a major, well respected skincare brand in Korea. It's under the umbrella of AmorePacific, the equivalent of L'Oréal in Korea, and it's one of their more "high-tech" brands. IOPE usually uses innovating ingredients or delivery systems in their formulas, and is focused on effectiveness above all.
And this can be seen in their cutting-edge formulas, which focus on well-known and effective ingredients.
And with this IOPE Bio Essence Intensive Conditioning, the formula is no exception. The formula is short and sweet, but packed with great skincare options!
In addition to the fermented ingredients, there is also niacinamide, the famous vitamin B3, which is a rockstar in the cosmetic world with antioxidant, anti-aging, brightening, anti-pigmentation, purifying effects…
But there's also moisturizing glycerin, some ketoglutaric acid which is supposed to boost collagen production (I must admit that this is the first time I've heard of it, so I can't really judge…), anti-aging adenosine, and good antioxidant ingredients like green tea and caffeine.
In short, a very pleasing list of ingredients! But we know that ingredients aren't everything and to be sure that a product is the best for us, without doubt, we have to test it 😉
IOPE Bio Essence Intensive Conditioning, my experience:
This IOPE essence really reminded me of one of my favorite essences, the Primera Miracle Seed Essence.
The claims of both products are very similar: deep moisturizing action, anti-oxidant protection and action on complexion radiance.
But I did see a difference between the two when I used them (more about that below).
I started using the IOPE Bio Essence Intensive Conditioning in the middle of the summer. I added it to my evening routine, first using it as a First essence (before my other essences) and then after a few days I switched with my other essence because it had a lighter texture than IOPE. Basically, I just used it as a regular essence, not a First Essence. I confess that I don't bother anymore with that "First Essence" type of terminology and I usually do as I see fit by relying more on the texture of my products 😉
To use it, I usually take a few drops into the palm of my hand, which I then apply by pressing the product on my face until my skin absorbs it. I repeat the operation a second time for a deeper moisturizing effect.
The texture of the IOPE essence is very "cushiony", without being super thick, but you can feel right away that it gives a lot of comfort to the skin.
Regarding the directions for use of this essence recommended by IOPE, I have to admit that I tried for a few days to follow the graduations on the side of the bottle, but quite honestly, I needed to use a huge amount of product and my skin was no longer absorbing it after two layers.
So yes, it does have a nice immediate plumping effect when you're using a ton of it. But quite honestly, I had an almost similar effect by using half as much. So instead of using four layers of product (yup, if I followed their quantity instructions, it was the equivalent of four layers of essence!), I settled for 2 and still had a good moisturizing effect.
I was less impressed with the brightening effect of this IOPE essence than I was with Primera one, I must admit. With the Primera, the effect on skin texture was more visible and it also had a soothing effect as a bonus.
However, regarding the moisturizing action, I think the IOPE essence wins the game. So if your skin feels particularly dry and you hesitate between the two, maybe the IOPE essence is the one for you.
For me, I have to say that although I really appreciate this deep moisturizing action (especially now that my skin is drier than usual because of my tretinoin), this essence has left me a little bit underwhelmed.
For a similar price, I find that the Primera Essence is way more versatile…
So I'll probably finish my IOPE essence, because it's still a good product, but I don't think I'll repurchase. A good point though, it does last quite a long time, even if it's a bit pricy (between 4 and 5 months, I would say, using it once a day).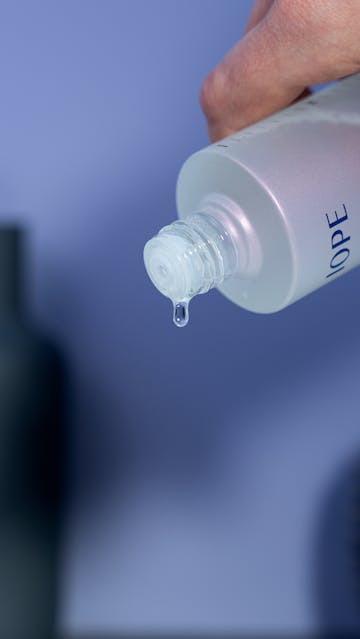 In conclusion:
You guessed it, even if I don't think it's a bad product at all, the IOPE Bio Essence Intensive Conditioning did not completely convince me.
Let's say that I was hoping for a little more, especially at this price…
I'm glad I tried it but I must admit that it made me want to go back to my dear Primera essence (lol oops 🙊)
The IOPE Bio Essence Intensive Conditioning retails between $50 and $60 for 168ml depending on the retailers.
Product Review in detail
Summary
IOPE Bio Essence Intensive Conditioning
"A first-step essence that purifies the skin and make it clear and translucent by filling antioxidant ingredients."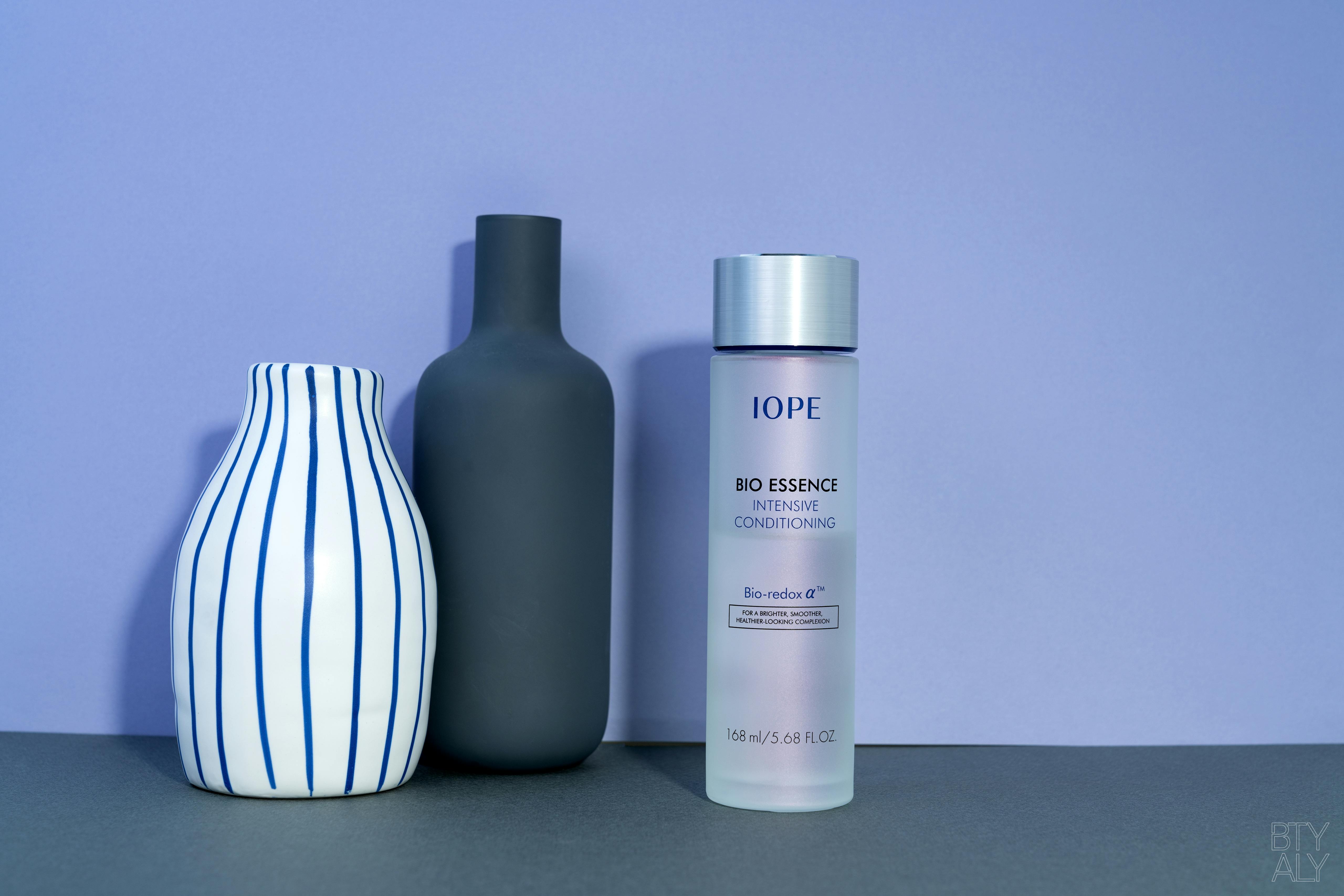 Recommendation
B+
A good product (but left me a bit underwhelmed).
Pros
- simple but chic packaging,
- the formula is quite simple but based on great, recognized skincare ingredients,
- the texture, very "cushiony" and "rich" without being greasy,
- the long-lasting moisturizing effet.
Cons
- I've seen mostly results on hydration, otherwise I'm a little less convinced,
- you have to use a lot of product to see some results,
- so it's quite expensive!
product name
Bio Essence Intensive Conditioning
packaging
A glass bottle with shimmery reflects, quite heavy (which gives it a very luxurious feeling), and with a silver metallic lid.
fragrance
It's fragrance-free (and it doesn't smell like anything).
texture
Liquid, but quite "cushiony". It leaves the skin very comfortable but without any greasy effect at all. It absorbs completely after a couple of minutes.
For Who
All skin types, all ages.
Concerns
– dry and/or dehydrated skin,
– lack of comfort,
– dull skin,
– ageing signs.
Method
I use the IOPE Bio Essence Intensive Conditioning every evening, after I cleansed my skin and used my acid toner (when I use one), before my other specific treatments and my moisturizer. It's supposed to be a "First Essence", which means applied before other products, or even other essences, but I confess that I use another essence before this one, and I don't think it makes a huge difference 🙂
I apply it on my face, including my eye contour and my neck. I pour the essence directly into the palm of my hand. I sprinkle it between two and three times, so that I have enough product in my palm. You can also use a cotton pad to apply it but I personally find that you lose too much product by using this method.
I then apply it directly to my skin, using light pressure with the palms of my hands until the essence has penetrated. If my skin is particularly dry, as it is the case at the moment for me, I reiterate the operation 2 or 3 times.
I finish by lightly patting my skin for a better absorption.
Key Ingredients
The formula is rather short but it's full of interesting ingredients!
– the base here are saccharomyces which are a type of yeast (I mentioned them in my focus on fermented ingredients); they have the specificity of helping to smooth the skin texture while bringing a lot of radiance to the complexion. They are beloved in Asia because they're also believed to have brightening properties.
– there is also niacinamide, the famous vitamin B3, which is a rockstar in the cosmetic world with antioxidant, anti-ageing, radiance, anti-pigmentation, purifying effects…
– some moisturizing glycerin,
– ketoglutaric acid which is supposed to boost collagen production (I must admit that this is the first time I've heard of it, so I don't really know what to think…),
– some anti-ageing adenosine,
– and antioxidant ingredients such as green tea and caffeine.
Ingredients
Saccharomyces ferment filtrate, purified water, niacinamide, glycerin, propanediol, butylene glycol, ketoglutaric acid, saccharomyces ferment, glycolipids, natto gum, green tea extract, theanine, glycereth-26, adenosine, carbomer, caffeine, caprylyl glycol, cholesterol, pentylene glycol, polyglycerin-3, PEG-8, hydrogenated lecithin, potassium hydroxide, 1,2-hexanediol, phenoxyethanol.
Ingredients not included
– alcohol,
– fragrance,
– essential oils,
– dyes,
– silicones,
– mineral oil.