Intro
Discover my mini-review and test of the Nutri:nectar Gentle Cleansing Oil In Emulsion from the Japanese skincare brand Shu Uemura. Is it worth the price?
To celebrate its 50th anniversary, this cult favorite Japanese cleansing oil has been revisited with a brand new extra soft and cushiony texture! Here is my mini-review of the Shu Uemura Nutri:nectar Gentle Cleansing Oil In Emulsion!
I already mentioned it many times, the double cleansing method is totally part of my skincare routine, and has been for years.
So I used a lot of different oils and cleansing balms! In general, I don't like to buy products that are too expensive because I still use a lot of them every time I use them, so they end up pretty fast!
I already tried the famous Shu Uemura cleansing oils in the past and was bothered to pay this price for mineral oil-based products.
I'm not against mineral oil in cosmetics, but I know it's a very inexpensive ingredient, so when I see the prices of the Shu Uemura cleansing oils, let's say I'm confused, to say the least.
But in recent years, there have finally been mineral oil-free versions in their range, and this is the case with this Nutri:nectar Gentle Cleansing Oil In Emulsion.
This cleansing oil is a little special. It was created to celebrate the 50th anniversary of the brand's first make-up remover oil!
Its texture is also different from the others. It's an oil-gel, very cushiony, perfect for the season.
All of this piqued my curiosity and I decided to "invest" in it, to try it. So here is my review!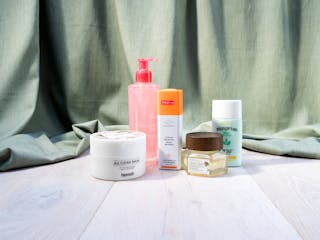 Skincare
How I build my skincare routine
Building a skincare routine tailor-made for your skin, your needs, your desires, and your budget… Not an easy task. In this article, I explain in detail how I do it!
Read more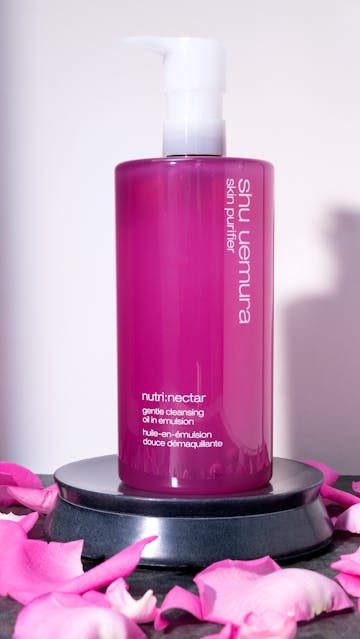 The Shu Uemura cleansing oils:
Shu Uemura cleansing oils are probably cult favorite products because they were the first in this product category!
The first oil-based cleansing product was indeed introduced by Mr. Shu Uemura in 1967.
Mr. Shu Uemura was a famous Japanese makeup artist in the film industry who made his career in Hollywood before creating his own eponymous cosmetics brand in Japan. The brand quickly became available worldwide and was even acquired by the cosmetics group L'Oréal in 2004.
Believing that beautiful makeup begins with beautiful skin, this avant-garde makeup artist first launched "Unmask", an oil-based cleanser that cleanses the skin and removes all types of makeup, including the very resistant one used in movie and television sets. It was a completely innovative product for the time!
"Unmask" has continued to evolve and has now changed its name. It became the "Shu Uemura Cleansing Oil" which is available in several versions (there are 6 different versions).
According to the brand, these oils can be used to remove makeup and also to cleanse the skin because they are all water-soluble (= it "breaks" when in contact with water and transforms into a fine milky emulsion that rinses off perfectly without leaving a greasy film on the skin).
Personally, I prefer to use them only as a makeup remover, because I feel my skin is cleaner if I make a second pass with a cleansing gel afterward ( also, I have a very #moreismore approach. Why use only one product when you can use two? ?)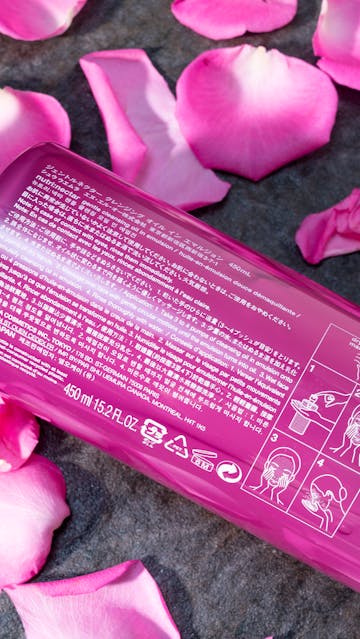 Mini-review:
Unfortunately, the Shu Uemura brand is becoming increasingly difficult to find. So when I get the chance to travel in Asia, I always take a look at the duty-free shops to see if I can find it.
This summer, when I was in Thailand in the Bangkok airport, I saw this pink oil that I didn't know and which apparently was the last one launched by the brand (I found out after that it was released in 2017, so, not that new).
The Nutri:nectar cleansing oil is not quite an oil per se. The brand describes it as an emulsion. It's a kind of "oily gel", like a liquid balm, which is really very nice to use, especially if you have sensitive skin. Its beautiful texture literally melts on the skin, it can be massaged a very long time if you want to, without having to rub your skin.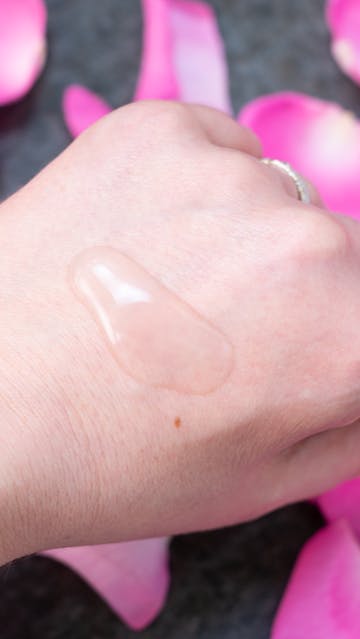 It's also recommended for sensitive or delicate skins. It contains some skincare ingredients including acai extract for radiance, magnolia extract for a moisturizing action, and reishi mushroom extract, which helps to strengthen the skin and protect it from external aggressions.
It has a light and very soothing floral scent, with notes of lavender, magnolia flower, and sandalwood. It's not overpowering at all, and makes the process of using it even more pleasant.
It rinses perfectly and leaves no greasy residue on the skin, nor on the eyes (and it doesn't sting my eyes at all!).
So I've been using it every night for about 2 months and I'm quite pleased with it. I introduced retinol into my routine a few weeks ago and I'm at the stage where my skin is quite sensitized. All products with soothing properties are very welcome!
Given its generous size (450ml), I imagine it will last me a long time (probably another 3 months, at least).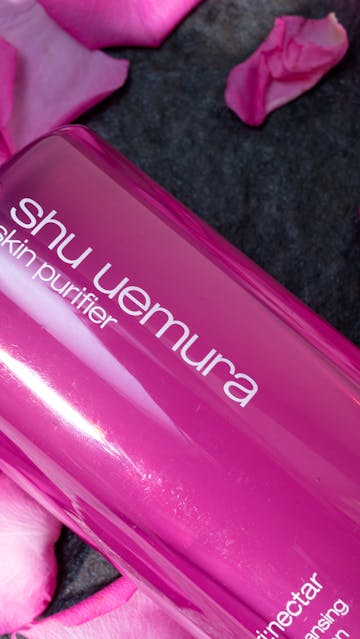 In conclusion:
Shu Uemura Nutri:nectar Gentle Cleansing Oil In Emulsion is a very pleasant product, and does the job well, but for me, it's definitely a luxury that will remain very occasional (and if I am honest, I probably wouldn't repurchase, because if I have to invest in a Shu Uemura cleansing oil, it might as well be Ultimate Oil8, my favorite from the brand).
Even if they're not as luxurious as those from Shu Uemura, there are so many great alternatives on the market in the category of cleansing oils and balms.
That being said, I'm still delighted to have it in my bathroom right now, and I use it with great pleasure!
The Shu Uemura Nutri Nectar Gentle Cleansing Oil In Emulsion retails for $74 to $83 for 450 ml depending on the retailers.
Product Review in detail
Summary
Shu Uemura Nutri Nectar Gentle Cleansing Oil In Emulsion
"To celebrate our 50th anniversary of cleansing oils, nutri:nectar has been created as a nourishing cleansing oil for delicate skin. Composed with essential oils, this healing fragrance comforts skin as if taking a deep breath in the forest. Together, calming Açai, replenishing Magnolia and Reishi Mushroom for its resilience restorability, lies at the heart of the nutri:nectar formula. This extravagantly nourishing fusion is carefully composed to reboot the skin's barrier function while resisting environmental stress. This cleansing oil in emulsion created with the power of nature helps even dry delicate skin feel conditioned & strengthened. The innovation in texture to push the boundary of cleansing oil, nutri:nectar cleansing oil in emulsion has a velvety cushion texture and glides onto delicate skin to effortlessly remove all makeup and impurities, leaving skin conditioned and strengthened -- soft, smooth, and refined."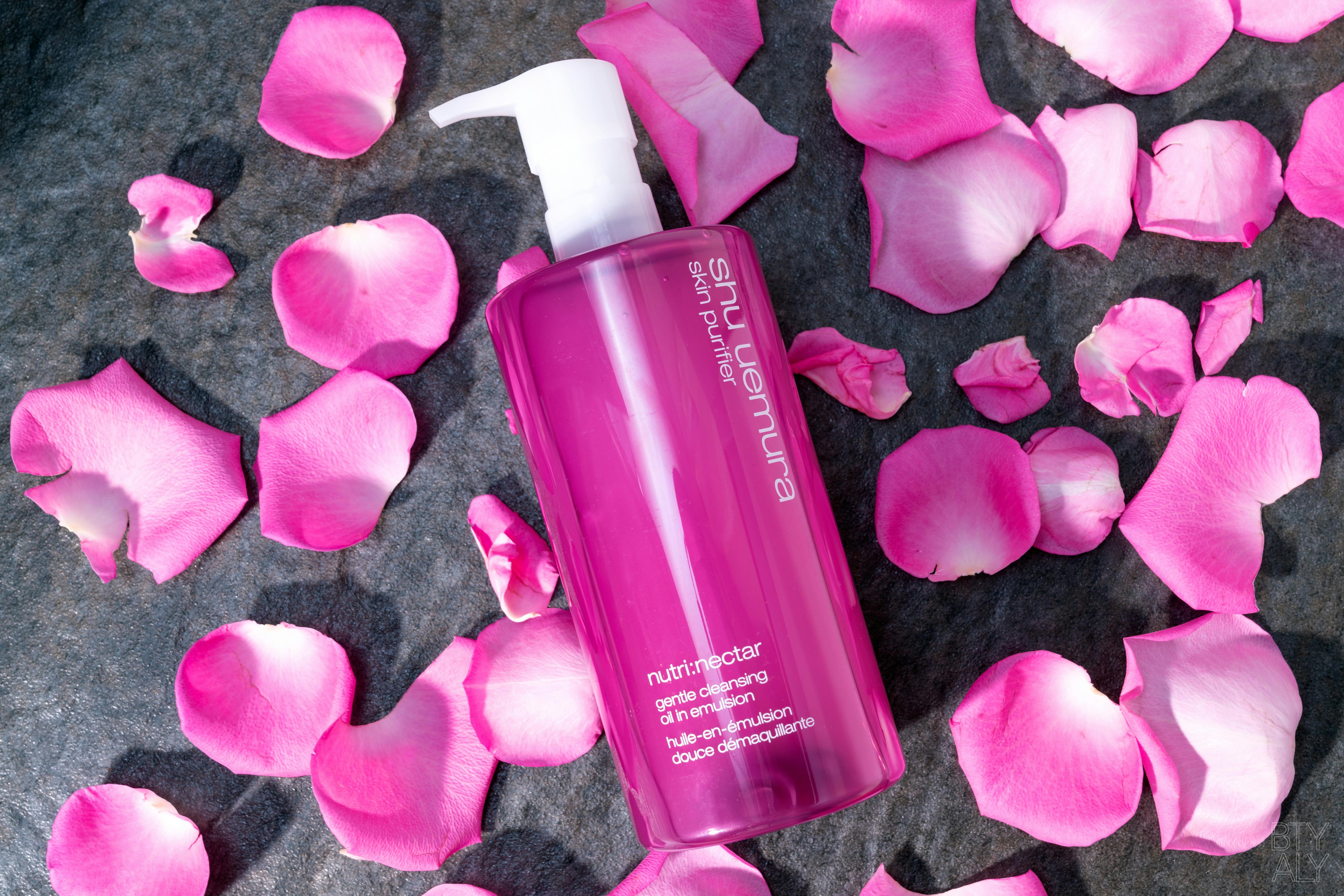 Recommendation
B+
A very nice product, but overpriced.
Pros
- the packaging is very practical and pretty (it's pink!),
- the texture is really pleasant and soft, it's really to massage on the skin,
- its fragrance is soft and nice without being overpowering,
- it doesn't sting my eyes at all (despite the presence of essential oils),
- it removes all my makeup without having to rub it,
- it's very easy to rinse and leaves no greasy residue on the skin or in the eyes.
Cons
- the formula isn't very natural (even if it doesn't contain mineral oil),
- the price is very high, which for this kind of product that I need to repurchase quite often, is a big con for me (even if the size here is quite generous),
- the brand is unfortunately increasingly difficult to find, even online.
product name
Nutri Nectar Gentle Cleansing Oil In Emulsion
packaging
A pink plastic bottle with a pump, simple but girlie ;)
fragrance
A very soft floral smell, not overpowering.
texture
An oil-gel, that melts on the skin and transforms into a fine, liquid milk in contact with water. It's water-soluble/ hydrosoluble (it rinses off with water without leaving a greasy feeling on the skin).
For Who
All skin types, all ages.
Concerns
To remove the makeup (including waterproof products), sunscreen products and pollution dust (you can't remove them with a cleansing gel, it's better to use oil to "break " them).
Method
I use the Shu Uemura Nutri:nectar Gentle Cleansing Oil In Emulsion in the evening at the very beginning of my skincare routine, it's a makeup remover. I systematically do a double cleanse when I wear make-up and/or when I wear a sunscreen. This cleansing oil is my first cleanse.
I take 2 to 3 pumps of product and apply it to my face, neck, and eyes, on my dry skin. Its gel-oil texture melts on contact with the skin and it becomes more liquid, like an oil. I gently massage it with my fingertips to dissolve the makeup and impurities.
I rinse my hands and pass my wet hands over my face, neck, and eyes to emulsify the product (= I gently massage my skin in circular motions). It becomes a fine milk. I finish by simply rinsing it with water.
For the second step of the double cleanse, I then proceed with a foaming gel to cleanse my skin.
Key Ingredients
Shu Uemura Nutri:nectar Gentle Cleansing Oil In Emulsion doesn't contain mineral oil (this ingredient is often used in this type of products). Instead, there are other cleaning ingredients (such as Ethylhexyl Palmitate) that have the same properties as mineral oil and will help to gently clean and dissolve impurities.
In this oil, there are relatively few active skincare ingredients, but you can also find:
– soothing Acai berry extract,
– Magnolia flower extract soothing,
– antioxidant Reishi mushroom,
– moisturizing glycerin,
– salicylic acid (not a lot) for a very light exfoliant effect,
– essential oils to lightly perfume the product (Rose, Lavender, Sandalwood…).
Ingredients
Ethylhexyl Palmitate, Aqua, Glycerin, Caprylic/ Capric Triglyceride, Hydrogenated Starch Hydrolysate, Propanediol, PEG-20 Glyceryl Triisostearate, Sucrose Laurose Laurate, Sucrose Palmitate, Sodium Methyl Stearoyl Taurate, Salicylic Acid, Tocopherol, Sodium Hydroxide, Linalool, Citronellol, Geraniol, Ganoderma Lucidum Extract, Isopropyl Lauroyl Sarcosinate, Isopropyl Myristate, Dicaprylyl Ether, Dicaprylyl Carbonate, Euterpe Oleracea Fruit Extract, Butylene Glycol, Maltodextrin, Hydrolyzed Opuntia Ficus-Indica Flower Extract, Citric Acid, Perilla Ocymoides Leaf Extract, Magnolia Lilflora Flower Extract, Sodium Benzoate, Phenoxyethanol, Potassium Sorbate, Ethylhexylglycerin, Parfum.
Ingredients not included
– Mineral oil,
– Alcohol,
– Silicones,
– SLS,
– Dye,
– Parabens.