Intro
Disclosure:
We, or the author, purchased this item.
We may receive commission (from a sale) if you click on and purchase from affiliate link(s) below. You'll be helping to support the magazine.
Neither we, nor the author, have previously received this product from the brand / company.
I tried the Laneige Water Sleeping Mask_EX (new version 2021) and here's my review!
I never thought I'd mention this product here. For years, I've been telling the world that the Laneige Cica Sleeping Mask is my all-time favorite (spoiler alert: it still is) and that the classic version, aka the Water Sleeping Mask, isn't for me. But that was without considering the marketing genius of Amorepacific (the group Laneige is part of), who are not afraid to reformulate their best-selling products regularly with the latest advancements in technology! A moisturizing sleeping mask with probiotics from green tea, you said? Give it to me! 😍😍😍
Laneige has become a brand that I'm much more drawn to over the years!
They're always very inventive with new marketing concepts (and yes, I'm always a big fan of this kind of stuff, even though I try to stay skeptical, because in marketing, BS is never far away!). There's no doubt they've managed to create some really cool new product categories in the last few years!
Remember the concept of "cream skin toner", that hybrid moisturizer/ essence I told you about a few years ago. Genius!
Or, to come back to our topic of the day, sleeping masks, those hydrating overnight masks. I'm not sure they invented this category of products but they clearly made it popular!
And yes, I have long dismissed the classic version of their hero product, the Water Sleeping Mask under the pretext that it contained too many silicones because I was convinced at the time that it clogged pores 😬
Those days are gone, I don't have anything against silicones anymore as they are actually not at all comedogenic or too occlusive as I thought (#leavesiliconesalone)(also #freebritney).
But it's true that the addition of the probiotic ingredients in the new version of this sleeping mask, which is now called the Water Sleeping Mask_EX, was the little nudge that made me take the plunge!
And I'm so glad I finally got to try it properly! I'll tell you all about it in my review 🙂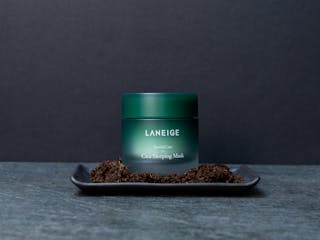 Skincare
Review: LANEIGE Cica Sleeping Mask
LANEIGE latest releases were definitely a big hit for me. Their latest sleeping mask, the LANEIGE Cica Sleeping Mask has even become a true favorite of mine! Here is my detailed review.
Read more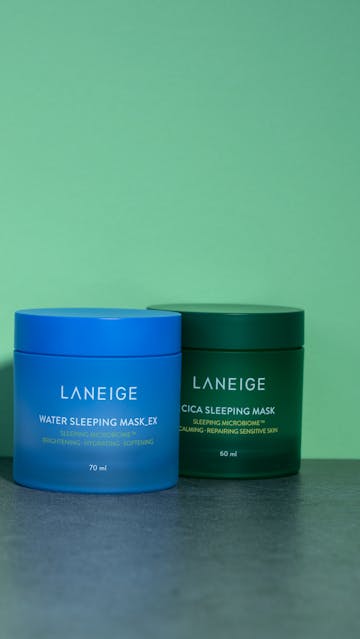 Laneige and sleeping masks:
Laneige is very famous in Korea (and in the world) for its Sleeping Masks. The brand has 5 different ones, including one for the lips, which is almost as popular as the ones for the face.
Although they are relatively new in the rest of the world, Sleeping Masks have been very popular in Korea for almost 20 years now!
Laneige launched the first version of its Sleeping Mask in 2002 (yes, it's been a while!).
The brand became interested in this category of products based on the following observation: lack of sleep is a widespread problem around the world. The concept of a skincare product that promises a nice, plumped skin like you get after a good night's sleep, is therefore very attractive to many of us!
We know that good sleep is one of the keys to skin beauty, and in Asia, people talk a lot about "Golden Time" (= the first 3 hours of sleep), which would be the most repairing for the body.
A lot of Korean skincare brands developed a specific product to imitate the effect of this "Golden Time", and even boost this night repair to make the skin look well rested, even if you don't get enough sleep.
The texture of Sleeping Masks is quite specific. They're quite different from the good old night cream that's usually very rich and heavy.
Sleeping Masks are usually lighter in texture, with a water concentration that is often quite high because you must be able to apply them on top of your evening moisturizer if you want to. The aim here is to "trap" skin moisture with emollient active ingredients, for a fresh, smooth and plumped skin when you wake up.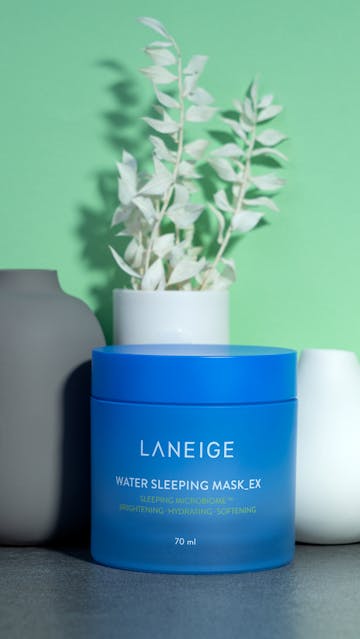 Laneige Water Sleeping Mask_EX, product presentation:
Laneige Water Sleeping Mask_EX is the 5th version launched by the brand.
The new formula, launched in early 2021, has been improved by using "Sleeping Microbiome™" technology to rebalance the skin weakened by external aggressions. This technology actually helps to rebuild the balance of skin damaged during the day by external conditions.
The Water Sleeping Mask_EX also contains an exclusive complex of "biotic" ingredients derived from green tea, the Pro-biotics Complex (patented by the Amorepacific Group) which is a combination of pre-biotics, pro-biotics and post-biotics that the brand claims can strengthen the skin barrier and also has a brightening effect on the complexion to give more vitality and radiance to tired skin.
This edition of Water Sleeping Mask_EX also contains plant squalane extracted from sugar cane to moisturize the skin even more deeply overnight!
The Water Sleeping Mask_EX is also the first Korean beauty product to receive an ecological certification by Carbon Trust. Water consumption was reduced throughout the product's life cycle, earning it a water footprint certification by Carbon Trust, a UK-based organization that helps companies reduce their carbon emissions (source: Odile Monod, on her fantastic blog The Monodist).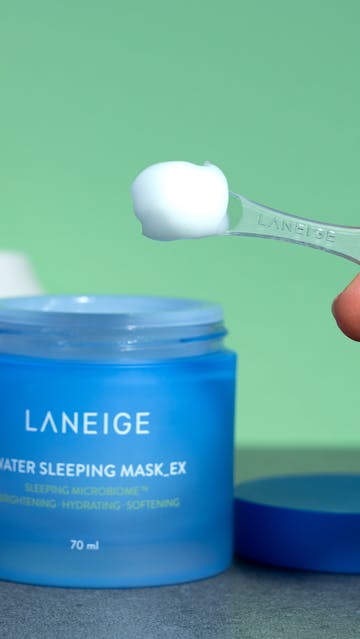 Laneige Water Sleeping Mask_EX, my experience:
I purchased the Laneige Water Sleeping Mask_EX last spring, a few months after its release in Korea. I've been using it for a little over 3 months.
My skin is combination to dry, and very dehydrated but with tretinoin, I also go through phases of more or less intense sensitization.
I wanted a product to "boost" my evening routine, and add a moisturizing and soothing touch.
I was aiming to use it 2 to 3 times a week, not necessarily every night. Its gel-cream texture is great for summer, or if you want a cooling hydrating effect rather than a nourishing one!
So I decided to apply it on the nights I was using my tretinoin and really, it's just perfect! I usually use the Water Sleeping Mask_EX at the end of my night skincare routine, instead of or on top of my night moisturizer.
I don't apply it in a thick layer, but rather a medium one, and its cool texture absorbs in a few minutes leaving a pretty glowy finish.
I'm not a huge fan of its floral scent, but luckily it doesn't linger and so it's not bothering at all.
I was honestly amazed at the soothing result on my skin with this mask! Not only does it provide hydration, but for me, it also helps to balance out the irritating effect of the tretinoin, which is always a plus. When I wake up in the morning, my skin is fresh, plumped up and well soothed.
The jar is 70ml so it's going to last me a while (probably 3 more months using it 3 times a week), I think!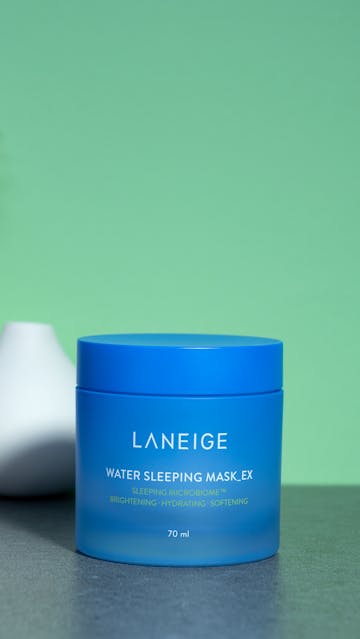 In conclusion:
I'm so glad I finally tried it! I'll be able to alternate it with my absolute favorite, the Cica Sleeping Mask from the same brand (which is more nourishing ).
I really like its hydrating-soothing effect, and if it's hot where you live, you'll also love it for its refreshing side to calm your overheated summer skin 😉
Laneige Water Sleeping Mask_EX retails between $35 and $45 depending on the distributors, for 70ml.
Product Review in detail
Summary
Laneige Water Sleeping Mask_EX
"Overnight mask featuring Sleeping Micro Biome™ and enhanced Pro-biotics Complex that strengthen the skin's defense to realize a well-slept, bright and clear complexion."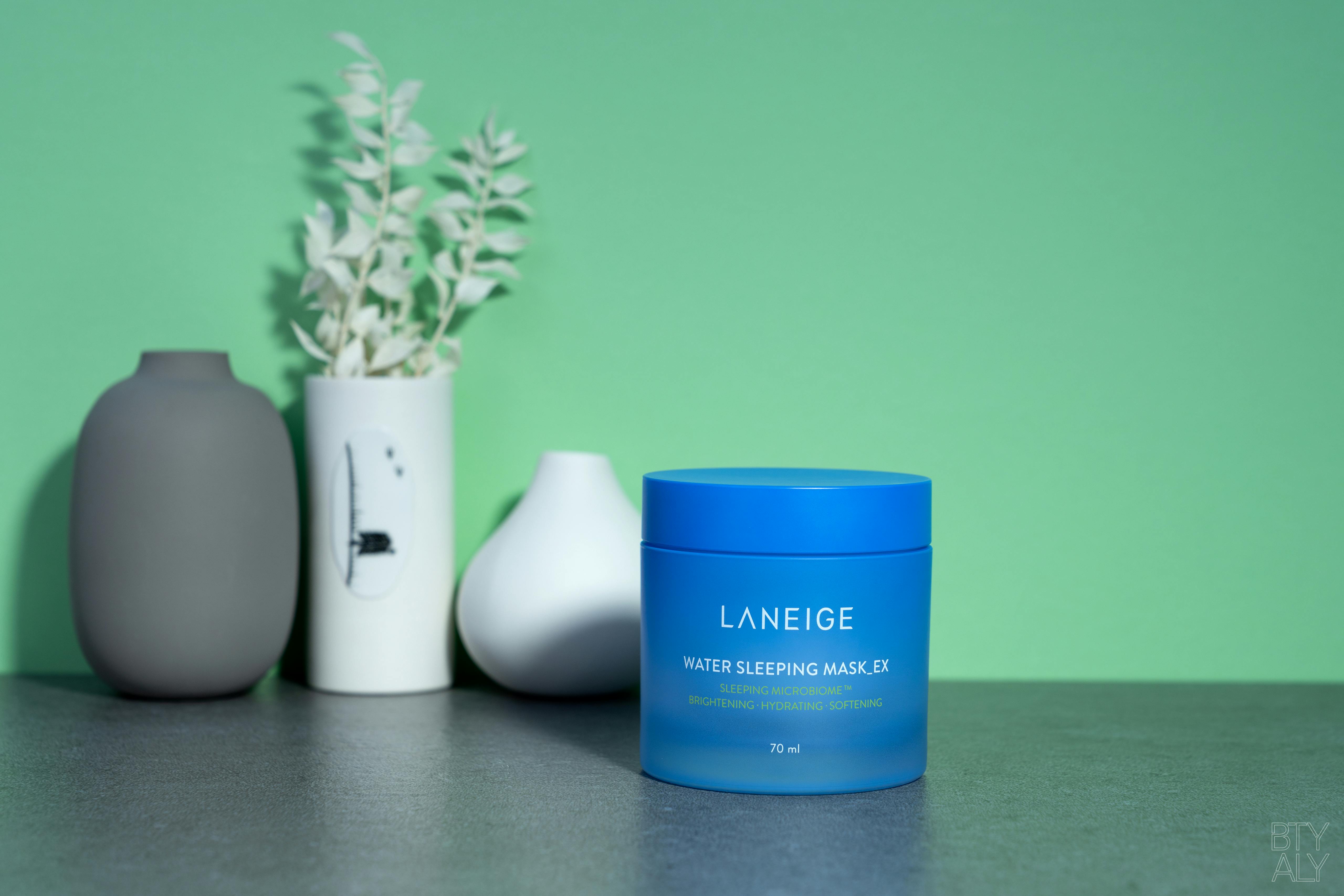 Pros
- I love the modern, simple packaging that gives a luxurious feel,
- the texture is fresh and pleasant, it leaves the skin plumped,
- you don't need to apply much, a medium layer is enough (so the jar lasts a while),
- it contains a lot of soothing and moisturizing ingredients, perfect for dehydrated sensitive skin,
- it's perfect to use in conjunction with anti-aging treatments that can be sensitizing (like acids or retinol),
- the result: a hydrated and soothed skin but not excessively greasy,
- the refreshing effect in the morning, the skin is calmed and plumped up.
Cons
- I'm not a big fan of its fragrance, a bit too floral/artificial for my taste (but fortunately, it doesn't stay!),
- it's still not very easy to find, it's the new version so you have to buy it online from Korean stores (or YesStyle/Stylevana see links below).
product name
Water Sleeping Mask_EX
packaging
A nice blue plastic pot, with a "frosted glass" effect. Very simple, modern and elegant.
fragrance
A light floral scent (I'm not a fan but luckily it's very light and doesn't linger).
texture
A fresh and hydrating gel-cream texture, which remains on the surface at first but is absorbed by the skin within a few hours!
For Who
For all skin types (even oily), and more specifically:
– dry and/or dehydrated skin.
– sensitive or sensitized skin.
Concerns
– sensitized, reactive skin,
– tightness due to dehydration,
– feeling of discomfort,
– dryer skin areas.
Method
The Laneige Water Sleeping Mask_EX is, as its name suggests, a night mask, which you use before going to bed.
I apply it on my face and neck at the end of my evening routine, usually instead of my night cream (for very dry skin, you can even apply it over it), in a fine layer. No need to apply a lot of the product, it would just be a waste IMO.
After 2-3 minutes, my skin has absorbed the excess, I usually don't even need to massage it, and I just sleep with it! I rinse it in the morning when I cleanse my skin.
I use it 2 or 3 times a week at the moment, usually the same evening I use my tretinoin. I find the Water Sleeping Mask_EX particularly pleasant and soothing on my skin, which is always a little "stressed" by tretinoin 😉
Key Ingredients
The formula of this sleeping mask is heavily focused on hydrating and soothing ingredients, perfect for refresh and calm overheated skin! The main ones:
– squalane oil: an oil that is very close to the skin's sebum, and therefore very well tolerated by all skin types, for a protective and anti-dehydration effect,
– Glycerin, Trehalose (a humectant sugar) and Beta-glucan to hydrate,
– Vitamin E and Malachite extract as antioxidants,
– Hydroxypropyl Bispalmitamide MEA, a ceramide-like ingredient used for its repairing and nourishing properties,
– probiotic ingredients such as Lactobacillus Ferment, but also brand-exclusive ingredients and technologies such as Sleeping Microbiome™ and a complex of probiotic ingredients derived from green tea: used for their soothing, regenerating, calming, repairing effects,
– and Tranexamic Acid, used for its brightening properties.
Ingredients
Water/​Aqua/​Eau, Butylene Glycol, Glycerin, Trehalose, Methyl Trimethicone, 1,2-Hexanediol, Squalane, Phenyl Trimethicone, Pca Dimethicone, Caprylyl Methicone, Ammonium Acryloyldimethyltaurate/​VP Copolymer, Lactobacillus Ferment Lysate, Carbomer, Propanediol, Tromethamine, Acrylates/​C10-30 Alkyl Acrylate Crosspolymer, Glyceryl Caprylate, Ethylhexylglycerin, Disodium EDTA, Raffinose, Stearyl Behenate, Malachite Extract, Fragrance/​Parfum, Polyglyceryl-3 Methylglucose Distearate, Inulin Lauryl Carbamate, Tranexamic Acid, Tryptophan, Hydroxypropyl Bispalmitamide MEA, Beta-Glucan, Limonene, Acorus Gramineus Extract, Linalool, Tocopherol
Ingredients not included
– alcohol,
– mineral oil,
– dye.