Intro
Disclosure:
We, or the author, purchased this item.
We may receive commission (from a sale) if you click on and purchase from affiliate link(s) below. You'll be helping to support the magazine.
I introduce you to the Korean skincare brand One Thing and I give you my thoughts on the One Thing Propolis + Honey Extract toner/ essence.
A Korean skincare brand inspired by the trend of "single-ingredient" products, notably popularized by The Ordinary… You can imagine that I had to take a closer look! Today, I want to introduce you to the Propolis + Honey Extract essence from the Korean brand One Thing.
Indeed, the name, "One Thing", gives a good indication of the concept of this skincare brand made in Korea.
All One Thing products focus on one key ingredient, with formulas that are accordingly very minimalist, and with affordable product price tags.
When Deciem launched The Ordinary with a similar concept, over 6 years ago now, it was quite revolutionary and in a few years, the brand has become a must-have! (I wrote about it on my blog in 2017 by the way 😉 ).
And inevitably, their phenomenal success has created vocations all over the world!
"One Thing" is not really the first brand to be inspired by the trend of "single-ingredient" products but unlike other brands that just came with "The Ordinary lookalike" products, the approach is more original here.
Today, I would like to tell you more about the brand One Thing and give you my thoughts about their Propolis + Honey Extract toner/ essence!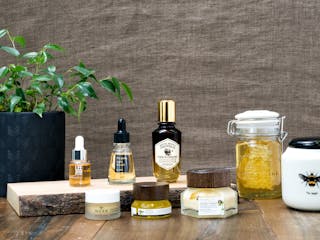 Ingredients
Focus on: Honey and Propolis
Skin products rich in hive ingredients such as honey and propolis have always been popular, especially amongst sensitive skins. The use of these ingredients in cosmetic is definitely not new, but skincare products made in Korea put a spotlight again on these very powerful and effective natural ingredients.
Read more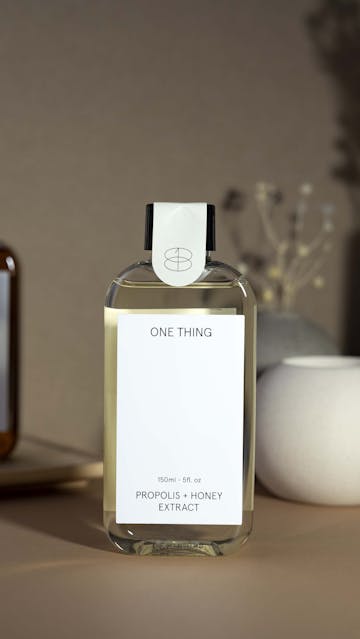 One Thing Propolis + Honey Extract toner, product presentation:
What's really nice about One Thing is that the brand is very Korean in its "single-ingredient" product approach.
Indeed, the key ingredients on which the products are based are pretty representative of those you see in a lot of Korean cosmetic products (and for the botanical extracts, they're actually from Korea as well). So are the product categories.
The brand launched with essences (very K-Beauty, isn't it? 😉), and recently completed its range with some serums and moisturizers.
But initially, One Thing became known mostly thanks to their large bottles of single-ingredient based plant extracts, and if you look closely at these ingredients, you'll soon realize that they're very typical of K-Beauty: green tea, Centella Asiatica, Artemisia, Honey and Propolis, Houttyunia Cordata, Galactomyces… If you're a fan of Korean skincare products, all of this is probably familiar! 🙂
Admittedly, they didn't invent the concept, and several brands already offer "plant extracts in bottles" this way (I've actually talked about some of them here, including this Amorepacific product or this one from I'm From).
But with the brand One Thing, the prices are also very affordable. They are generally between $18 and $23, and they offer large size bottles (300ml). I preferred to grab a few different small ones (150ml) to try several of them, but if you're a fan of a particular ingredient, it's nice to have a big bottle readily available 😉
As I said above, the formulas of these essences are very minimalist; usually around 3-4 ingredients tops. There is the star ingredient and a few other additional ingredients to support the first one (it can be preservative ingredients, or a diluent, or even a second active ingredient).
The brand also promotes the "purity" of its formulas and mentions the EWG as a reference. As you know, this type of "Clean Beauty" marketing isn't my cup of tea, so I don't really pay attention to it.
The first essence I wanted to try was unsurprisingly the honey and propolis one. I've talked about my love for these two ingredients many times before, so my choice won't surprise the attentive readers of BTY ALY 😉
So the One Thing Propolis + Honey Extract is a honey and propolis based toner/essence with skin brightening, antioxidant, purifying, moisturizing and soothing properties.
It helps to nourish and calm the skin. It also hydrates it thanks to the hyaluronic acid it contains.
It also features butylene glycol, a diluent that helps the product to absorb faster and deeper into the skin.
Depending on the size (150 or 300ml), this essence retails for between $18 and $23.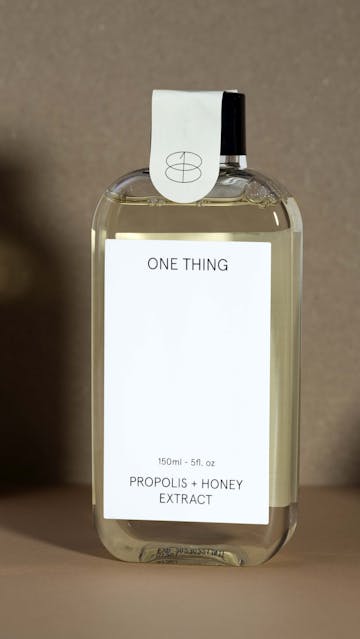 One Thing Propolis + Honey Extract toner, my experience:
I started the One Thing Propolis + Honey Extract essence in October, and I'm 2/3 of the way through my bottle. It was very nice this Fall because it feels comfortable without being rich, but I also really like it this time of year (Winter), for its "bouncy" texture and soothing effect!
I only use it in the morning, but you can definitely use it in the evening too without any issues.
Its texture is liquid, but it has a body (that's what I mean when I describe it as "bouncy"!). I apply it by pressing it directly with my hands, as I do with all my essences.
It's very moisturizing and I also find that it gives me a glow, which is always appreciated.
It's not necessarily the most complete of my essences, but it does the job pretty well! And I find it very pleasant to use, and sometimes that's all I ask for in an essence 😉
Best of all, it's quite affordable, and it's going to last me for a few more months (probably 6 months of use in total).
In conclusion:
In short, I find it to be a very nice essence to use; it comforts my skin. It's also quite soothing, and it has that glow-boosting effect, which is always a good thing, especially in the heart of winter!
I actually repurchased a second bottle, as you can see 🙂
The One Thing Propolis + Honey Extract toner retails for $18 to $23 depending on the retailers, for 150 to 300ml.
Product Review in detail
Summary
One Thing Propolis + Honey Extract
"The One Thing Propolis and Honey Extract is an antioxidant rich toner / essence, with skin brightening, moisturising and soothing properties. It nourishes, calms and hydrates with the help of hyaluronic acid.
The concentrated extract can be used as a toner or with other skincare products as well."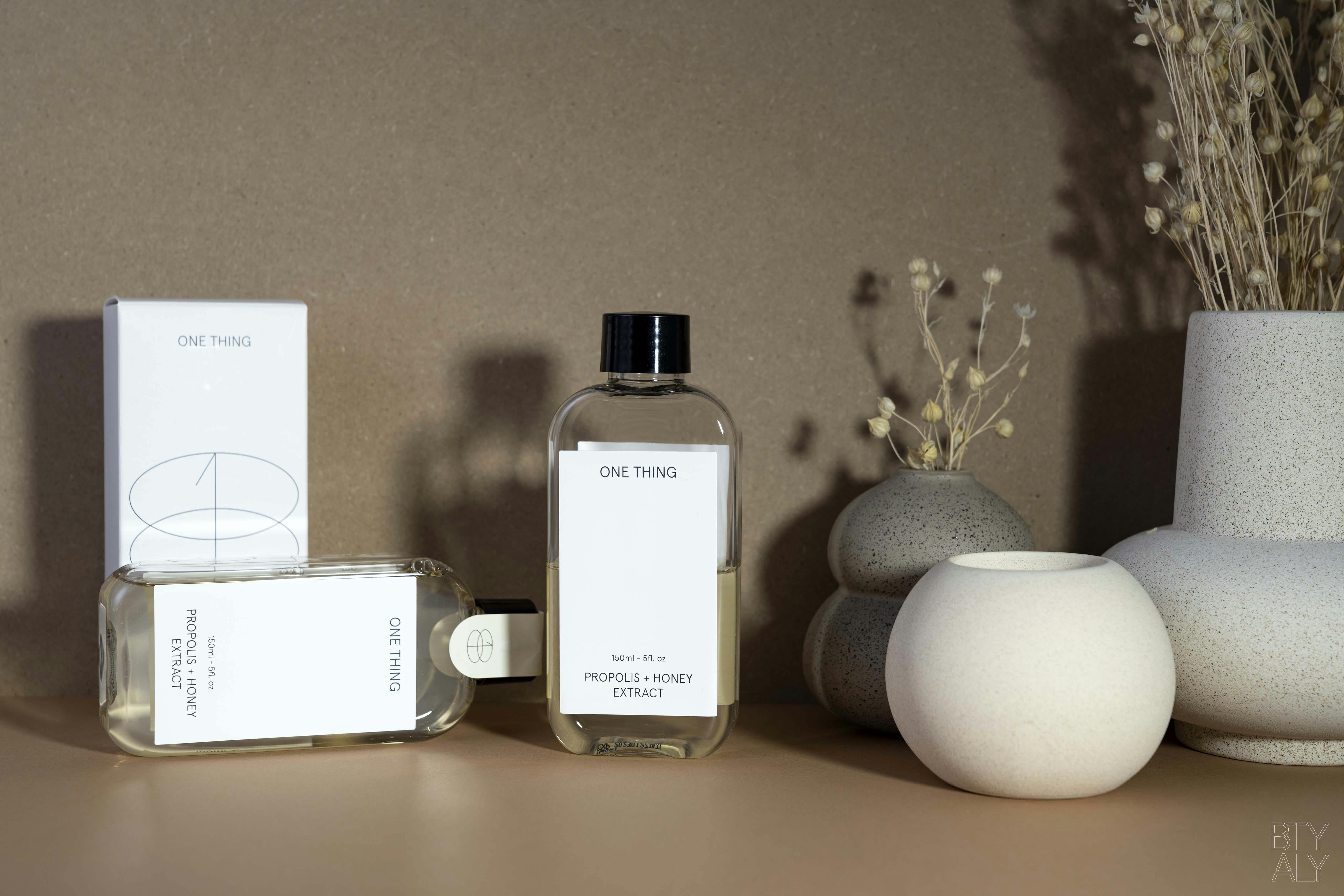 Pros
- the simple but pretty packaging,
- the minimalistic formula, which focuses on the essential,
- the texture, comfortable and soft, which leaves the skin comfortable,
- the immediate moisturizing effect, which lasts,
- the soothing effect,
- the affordable price.
Cons
- the communication of the brand, a little bit too focused on the EWG for my taste (this American lobbying organization is quite known for spreading misinformation about a lot of ingredients),
- the formula is very simple, maybe simplistic. I always tend to prefer more complex formulas, or simple but fermented extracts, for a better efficiency.
product name
Propolis + Honey Extract
packaging
A plastic bottle that reminds me of a flask. It's simple and elegant.
fragrance
Fragrance-free (and no discernible scent)
texture
A liquid texture that has a little body and leaves the skin comfortable.
For Who
All ages.
For all skin types, especially
– sensitive or sensitized skin, with a damaged protective barrier,
– reactive skin, with redness,
– acne-prone skin.
Concerns
– dehydration,
– sensitized, damaged skin,
– acne prone skin,
– feeling of discomfort due to irritation.
Method
I use the One Thing Propolis + Honey Extract toner/ essence in the morning, after I have cleansed my skin and used my vitamin C serum and before my other specific treatments (serums) and moisturizer. You can also use it morning and evening if you want to.
I apply it on my face, including my eye contour and my neck. I pour the essence directly into the palm of my hand. I sprinkle it two and three times, so that I have enough product in my palm. You can also use a cotton pad to apply it, but I personally find that you lose too much product by using this method.
I then apply it directly to my skin, using light pressure with the palms of my hands until the essence has penetrated. I finish by lightly patting my skin for a better absorption.
Key Ingredients
So this is the whole concept. The formula is super simple, only 6 ingredients! The main ones:
– propolis extract helps to balance, moisturize and soothe troubled skin.
– honey extract helps to purify the skin. It's also very moisturizing and gives a glow to the complexion.
– hyaluronic acid is a hydrating ingredient that helps skin maintain moisture and a plumped look,
– and finally butylene glycol helps the product to absorb faster and deeper into the skin.
Ingredients
Propolis Extract, Honey Extract, Sodium Hyaluronate, Butylene Glycol, 1,2-Hexanediol, Ethylhexylglycerin.
Ingredients not included
– alcohol,
– fragrance,
– essential oils,
– dyes,
– silicones,
– mineral oil.