Intro
My detailed review of the Adaptogen Deep Moisture Cream moisturizer from the American skincare brand Youth To The People, and a mini-focus on adaptogenic ingredients.
I have been tempted to try something from the skincare brand Youth To The People for a little while now… When they released a moisturizer with adaptogenic ingredients, curiosity got the better of me and I finally took the plunge! Let me tell you more about the Adaptogen Deep Moisture Cream and its star ingredients along with such a mysterious name.
I didn't buy it right after the launch, though. I must admit that the brand had a bit of a "I'm too cool for you" side that always stopped me before ( a bit like Glossier/ the "I'm too cool for you. You can't sit with us", you know what I mean?).
Also, this Adaptogen Deep Moisture Cream is supposed to be more suited for dry skin, which is not my case. I have combo skin, very dehydrated at the moment but still.
I received a sample of their other moisturizing cream with Kale much lighter, which I tried while I was in France last spring and I liked it. A good moisturizing cream, simple and fuss-free.
But the Adaptogen Deep Moisture Cream still intrigued me. It contains adaptogenic ingredients, which are one of skincare's big trends of the moment (in Korea as well), and I was curious.
Thanks to a discount code on the Youth To The People website, I finally gave in and ordered it. I'll tell you all about it in my review!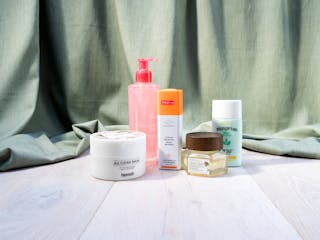 Skincare
How I build my skincare routine
Building a skincare routine tailor-made for your skin, your needs, your desires, and your budget… Not an easy task. In this article, I explain in detail how I do it!
Read more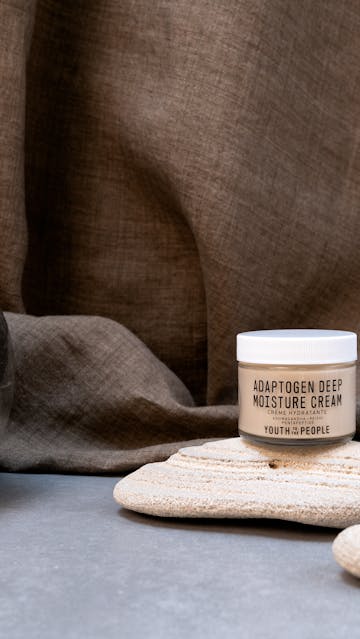 Youth To The People:
Youth To The People is from California and ticks all the boxes of the trendy skincare brand!
The founders of YTTP are two brothers and they've always been immersed in the world of cosmetics. Their grandmother had her own skincare brand in the 1980s. At a very young age, they were already fascinated by all aspects of the business and always wanted to learn more about ingredients, skin types, marketing etc.
In 2014, they naturally decided to follow the same path as her and launched their own skincare brand, but with a cool and above all very green Californian twist!
The brand aims to combine high-performance and innovative natural ingredients (they love superfood for the healthy touch) with modern scientific research. YTTP is also cruelty-free, vegan and 100% made in California.
The packaging of the products is simple and very arty, so quite photogenic/Instagram appropriate! And they're not only pretty but also environment-friendly. At YTTP, they focus on sustainable materials and most of the product packaging is made from recycled materials.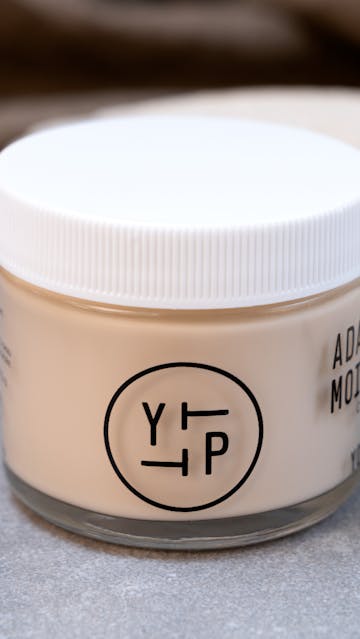 Adaptogen ingredients:
Youth To The People use many food ingredients in its product formulations and Adaptogen Deep Moisture Cream is no exception!
This cream is full of adaptogens! These ingredients are indeed very popular at the moment, especially among people who are fond of healthy food. Right now, you can see them everywhere! Turmeric latte, mushroom coffee… The very popular wellness trend makes us adopt these strange ingredients with often exotic names (at least for Westerners) in our daily lives.
But, as is often the case, adaptogen ingredients are not really new. They have even been used for centuries in traditional Chinese and Ayurvedic medicine!
Adaptogens are a bunch of herbs, mushrooms, berries, roots, and spices that are supposed to increase the body's ability to manage stress. They would help the body to "adapt" to these stress attacks by regulating cortisol (one of the stress hormones) and to balance the stress response system to improve mood, stimulate immunity, reduce fatigue, among other benefits.
Scientists are just beginning to study them, but they suppose that adaptogens bring balance to the hypothalamic-pituitary-endocrine axis, which regulates communication between the brain and the adrenal glands (responsible for stress response).
Regarding cosmetic products, they're mainly used for their antioxidant properties because they're supposed to help the skin by protecting it from environmental stress.
Some examples of adaptogen ingredients:
– Ashwagandha and Turmeric which are energizing spices widely used in Ayurveda. They're also anti-inflammatory in topical use (on the skin).
– Ginseng, whether it's Panax Ginseng or Rhodiola, which are energizing and stimulating plants. In cosmetics, they're powerful antioxidants with anti-aging properties.
– Aloe Vera, which is used a lot for its moisturizing properties, is also an adaptogenic plant.
– mushrooms such as Reishi, which helps boost immune defences and has antioxidant properties.
This list is not exhaustive, there are many others!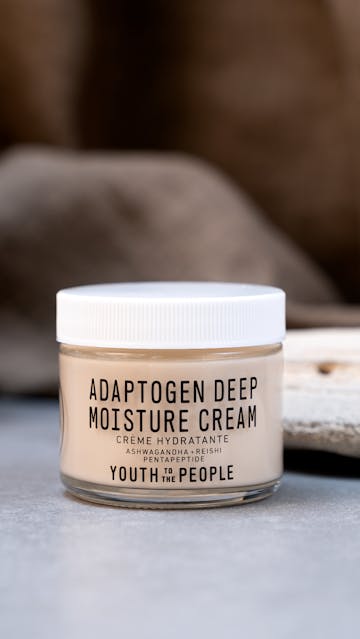 Product presentation: Youth To The People Adaptogen Deep Moisture Cream
Youth To The People Adaptogen Deep Moisture Cream is a moisturizing cream but not only that! Thanks to all its adaptogen ingredients, it also has very interesting antioxidant properties.
And in all honestly, for me, that is the real spotlight of this product! I like the idea of a moisturizer that fights inflammation due to stress and allows me to preserve my skin by doing anti-aging prevention. As I have already said and repeated here, prevention is for me one of the best anti-aging strategies! It's easier to keep what you already have by protecting it than to repair what's damaged.
And if this antioxidant cream is also comfortable and pleasant to use, it's a bonus!
According to the brand, Adaptogen Deep Moisture Cream is aimed at more drier skin types and it's true that when you look closely at its formula, there are many nourishing ingredients included.
However, I don't find it too rich for my dehydrated combination skin. I use it more in the evening as a night cream, but my skin absorbs it without any issue and I don't wake up with greasy skin in the morning (that has happened to me with other products).
Its texture is a real joy, it's melting and pleasant to use!
If I had to name one issue, it would probably be its price, which I find a little expensive. $58 is not cheap for a moisturizer. Granted, the size is still a little more generous than the average, it's a 60ml jar. But still.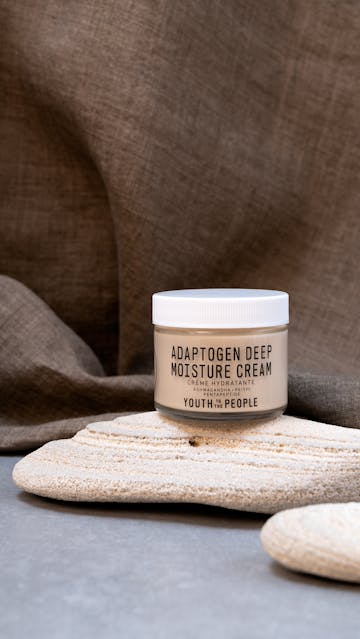 My experience:
I started using Youth To The People Adaptogen Deep Moisture Cream about 2 months ago.
I chose to use it in the evening to take advantage of its nourishing and soothing effect (as I use quite stimulating products such as acids and retinol in the evening, it seemed like a good combo to me). If you have dry skin, I think you can use it morning and evening without any issue.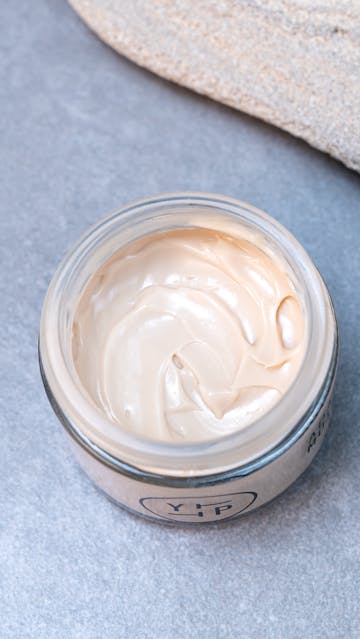 I find that the formula of this cream is rather balanced, with many good ingredients for comfort but which also have an interesting antioxidant effect.
I don't need to apply much (a tiny amount is enough for my face and neck), so the jar will probably last me all summer!
For me, it's perfect right now! During summer in Dubai, we live indoors because it's too hot to go outside and the air conditioning is extremely drying for my skin. My dehydration is much more pronounced than usual and I greatly appreciate a cream that can repair and nourish my skin for a long time. I also like its soothing effect very much!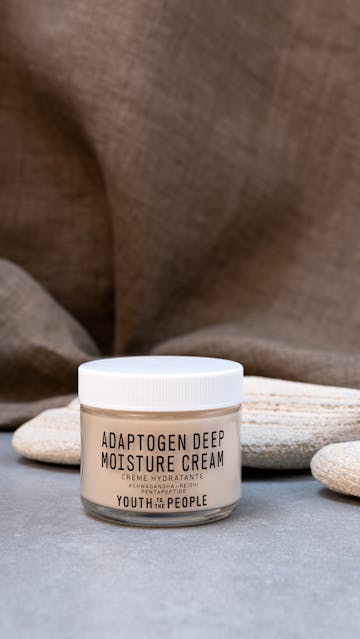 In conclusion:
In short, I really like this Youth To The People Adaptogen Deep Moisture Cream which is a very enjoyable night cream for me this summer!
So it makes me want to take a look at the other products from the brand. If you have any suggestions, I'm listening! 😉
The Youth To The People Adaptogen Deep Moisture Cream retails for $58 for 60ml.
Product Review in detail
Summary
Youth To The People Adaptogen Deep Moisture Cream
"A deeply hydrating, calming moisture cream powered by adaptogenic herbs and mushrooms: ashwagandha, rhodiola, reishi, and holy basil."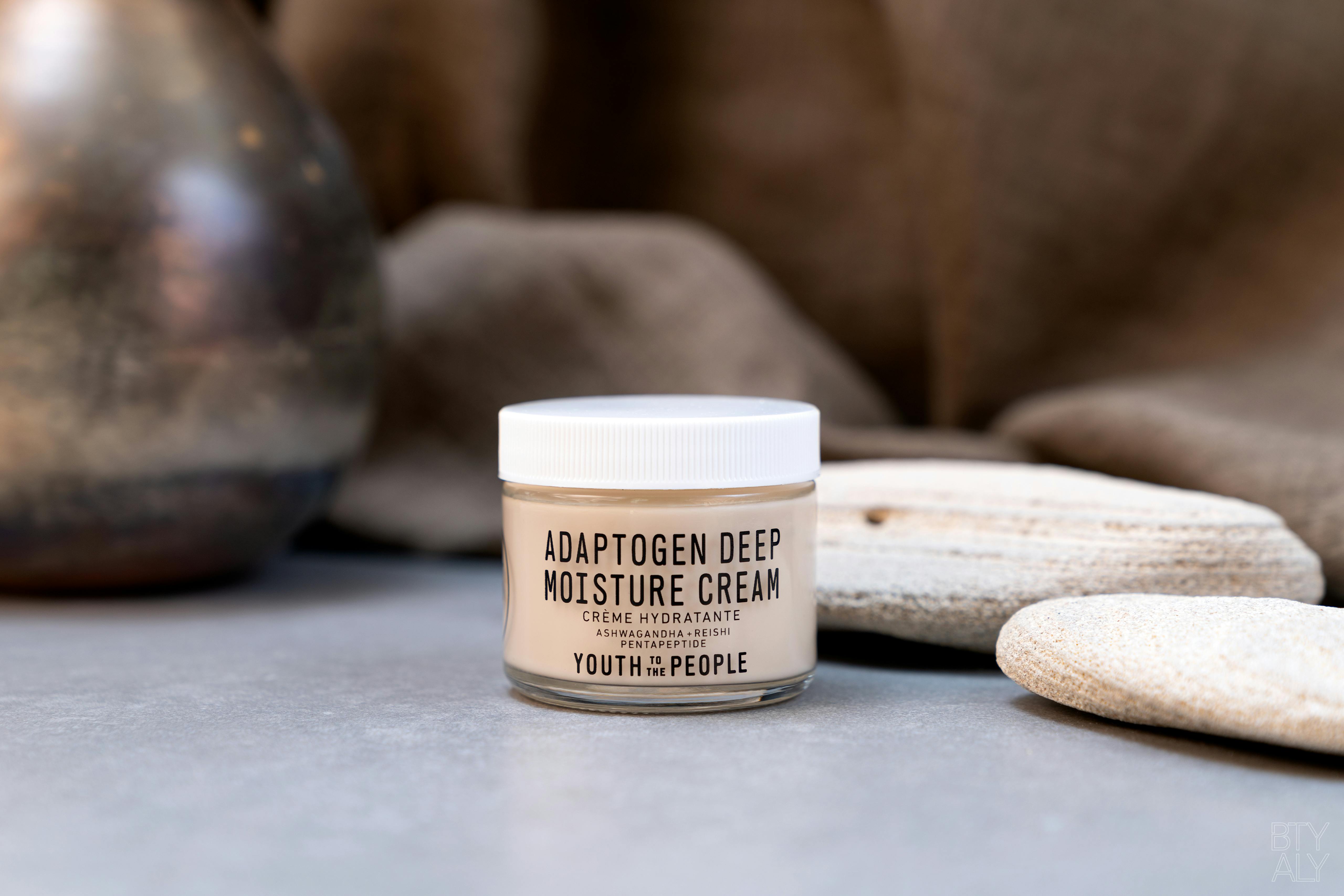 Recommendation
A
For me, it's a great night cream!
Pros
- a great formula with many good ingredients for the skin,
- a nice simple and chic packaging,
- a lot of antioxidant/adaptogenic ingredients to protect against free radicals,
- it leaves the skin super comfortable (and not greasy at all),
- the super pleasant, soft and yummy texture,
- the very appealing soothing effect (especially in summer).
Cons
- I'm not the biggest fan of the jar packaging, not the most ideal to protect the formula,
- the price, quite expensive (on the other hand, the size of the jar is rather generous, 60ml).
product name
Adaptogen Deep Moisture Cream
brand name
Youth To The People
packaging
A pretty glass jar covered with a white plastic cap.
fragrance
It's fragrance-free but the formula has a pleasant subtle fresh scent.
texture
A very pleasant luscious cream, which doesn't leave a greasy effect.
For Who
– dehydrated skin (including combination to oily skin),
– sensitive and/or sensitized skin,
– dry skin.
Concerns
– need for hydration,
– need for comfort,
– need for environmental protection,
– sensitized skin,
– wrinkles, fine lines,
– lack of radiance.
Method
I use it in the evening but you can use it morning and/or evening.
I take a small amount of cream with a clean spatula, which I apply at the end of my routine, after my serums.
I massage my face and neck for a few seconds until the cream is absorbed.
Key Ingredients
It is a great formula, full of interesting skincare ingredients like:
– nourishing sunflower oil, borage oil, shea butter,
– squalane to avoid dehydration,
– aloe vera for hydration (it is also an adaptogenic ingredient by the way),
– vitamin B5 (panthenol) and allantoin for the soothing effect,
– vitamin E for its antioxidant effect,
– the adaptogenic ingredients: ashwagandha (a medicinal herb), reishi (a mushroom), tulsi (holy basil) and rhodiola (plants) that help reduce the effects of stress and strengthen the skin's resistance,
– pentapeptide-59: calming and soothing effect.
Ingredients
Purified Water, Helianthus Annuus (Sunflower) Oil, Octyl Palmitate, Glyceryl Stearate, Propanediol, Stearic Acid, Rhodiola Rosea, Ocimum Tenuiflorum (Holy Basil), Withania Somnifera (Ashwagandha), Ganoderma Lucidum (Reishi Mushroom), Aloe Barbadensis Leaf Juice, Glyceryl Mono Laurate, Squalane (Olive), Phenoxyethanol, Simmondsia Chinensis (Jojoba) Seed Oil, Pentapeptide-59, Hydrogenated Lecithin, Butyrospermum Parkii (Shea) Butter, Phenethyl Alcohol, Ethylhexylglycerin, Maltodextrin, Carbomer, Mixed Tocopherols, Ethylhexylglycerin, Allantoin, Panthenol, Prunus Amygdalus Dulcis (Sweet Almond) Oil, Borago Officinalis (Borage) Oil, Caramel Color, Xanthan Gum.
Ingredients not included
– mineral oil,
– silicones,
– parabens,
– perfume,
– dyes.