Intro
My test and thoughts of the Oat Cleansing Balm by the affordable British skincare brand The Inkey List.
It's been way too long since I last reviewed a makeup removing product here! The one I'm introducing today could have been a wonderful deal, but unfortunately, I wasn't really convinced. Let me tell you all about my experience with Oat Cleansing Balm from the British skincare brand The Inkey List!
The double cleansing method has been part of my skincare routine for years now! I can't think of anything better to remove effectively all my makeup and the sunscreen filters I use every day!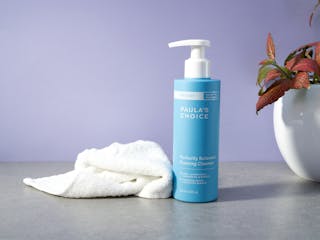 Skincare
How to cleanse your skin properly
Facial cleansing isn't always done properly, yet it's probably the most important step in a skincare routine. Today let's take a closer look at the best way possible to cleanse your skin, and all there is to know about it!
Read more
Double cleanse, if you are not familiar with the concept, means that you first remove your makeup with a "greasy" product (an oil or cleansing balm) that will dissolve all pigments, sunscreen and fine pollution dust, and then cleanse the skin of excess sebum and impurities with a mild cleansing gel/milk or cream that rinses off with water.
In my evening routine, there is always an oil or makeup cleansing balm. A few years ago, it was difficult to find this type of product everywhere, but nowadays, most brands sell them, at various prices!
So I wanted to try the Oat Cleansing Balm, an affordable and gentle oat-based makeup cleansing balm by the UK based skincare brand The Inkey List. Here is my review and my thoughts on it!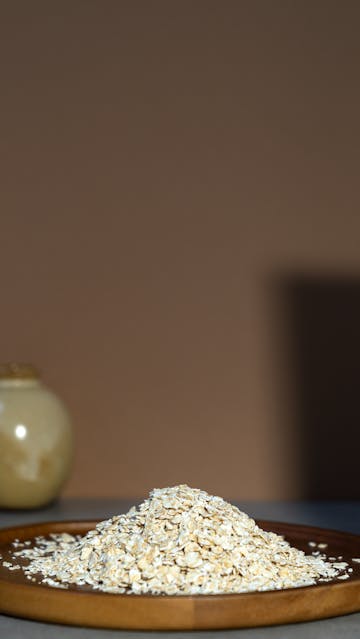 The Inkey List Oat Cleansing Balm, product presentation:
Let me tell you something. Between cleansing oils and balms, my heart isn't torn: I definitely prefer cleansing oils!
I don't love that most of balms are usually in jars (the pump bottles of the cleansing oils are so much more practical!). Some of them are far less easy to emulsify than oils, and you have to remove them with a damp cloth to rinse them properly. I apologize to Saint Caroline Hirons, but washcloths/ flannels are not my thing 😆 (they rub my skin, and then you do separate laundry with them… Nope!)
So when I saw that The Inkey List, the innovative and affordable British skincare brand launched a cleansing balm in a tube, I said deal! (Well, actually, it's when I saw its price, that perfectly complemented this small Cult Beauty order to allow me to have the free shipping costs, that I said deal! 😉 )
And I also like its rather short formula, with soothing oat extracts, very appealing! My skin has changed a lot in the last few months (due to tretinoin). It's much drier than before and more sensitive sometimes, so the idea of using a gentle, rich product to remove makeup sounded good to me!
The formula of the Oat Cleansing Balm is indeed quite short and sweet.
It contains mainly:
– fatty substances to dissolve impurities: sweet almond, sunflower and oat kernel oils,
– emulsifying ingredients to allow an easier rinsing
– and also colloidal oatmeal and oat kernel oil used here for their soothing effect.
In short, a fairly simple, no fuss product, nothing crazy on paper. But if it does the job well, it's typically the basic product you like to come back to and that, huge plus, won't break the bank!
Unfortunately, when I tried it, it didn't really convince me…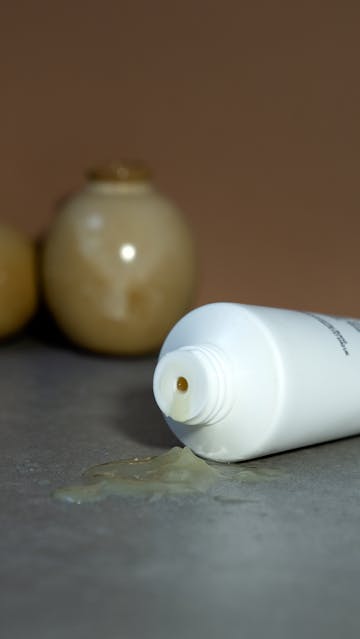 The Inkey List Oat Cleansing Balm, my experience:
A balm in a tube is practical, but it means that its texture must be sufficiently "loose" to be able to melt quickly so that it can be easily collected and applied on the skin. As a result, the balm will inevitably lose a bit of its smoothness and creaminess.
And that's the first thing I noticed when I used it: the texture of the Oat Cleansing Balm; both not creamy enough, and too greasy. You have to use a good amount of it to be able to massage it properly on the skin, and, as a consequence, I find that it emulsifies quite badly if you just use your wet hands. In fact, it tends to leave a greasy film on the skin if you remove it this way.
To be sure to remove it properly, you have to use a washcloth. I already said above what I think about them: not my cup of tea!
Furthermore, I wasn't amazed by this product when it came to removing my eye makeup. I really have to insist for a long time to be able to remove all my mascara… Which is a bit annoying!
If you add to that the fact that the smell isn't great either (it smells a bit like like grease), it's not the most luxurious and sensorial product…
In short, it's certainly not very expensive, and it's practical thanks to its tube format but overall, its a meh product IMO.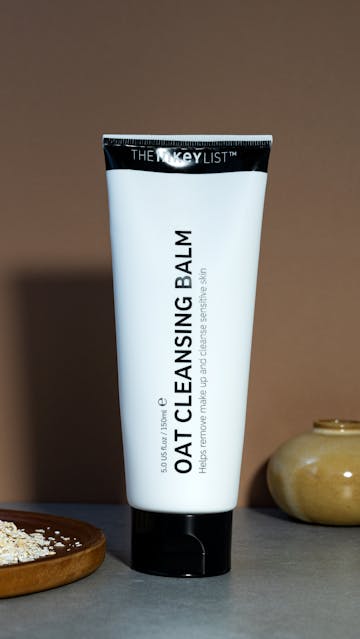 In conclusion:
In short, I won't repurchase The Inkey List Oat Cleansing Balm and I'm not sure I'm going to finish it either, to tell you the truth 😅
If you want a great cleansing balm at a decent price that does the job, K-Beauty knows how to do it. I talked about the Heimish All Clean Balm and the cult Banila Co one (in this post) which are excellent options that are just a tad more expensive than The Inkey List (but worth it).
The Inkey List Oat Cleansing Balm retails between $13 and $15 depending on the retailers.
Product Review in detail
Summary
The Inkey List Oat Cleansing Balm
"This luxurious cleansing balm gently dissolves make-up, cleans and nourishes the skin, making it ideal for sensitive skin types. Combining soothing colloidal oatmeal with ceramides to support skin's natural protective barrier, it's also formulated with oat kernel oil."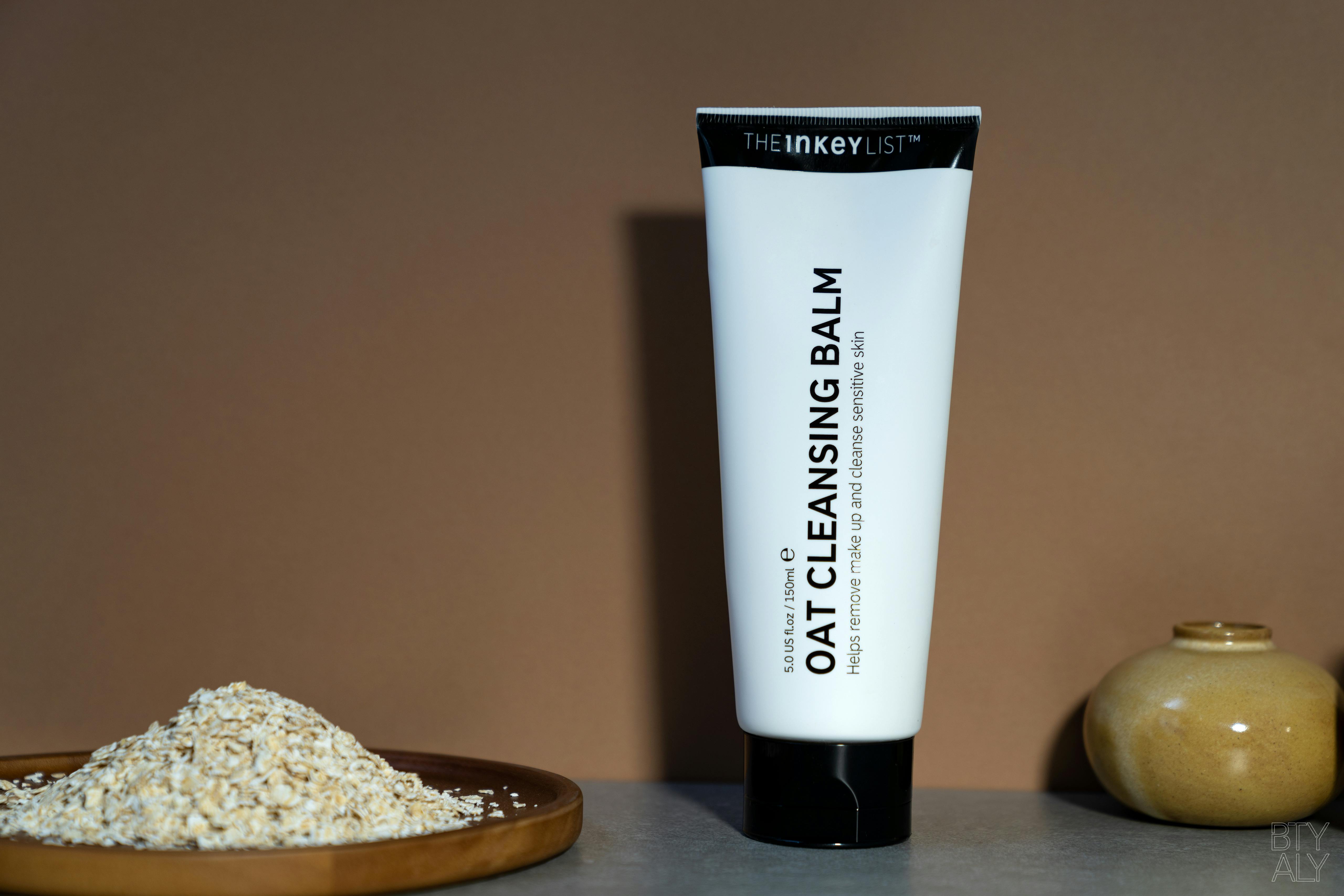 Pros
- the squeezy tube packaging is quite practical,
- the formula is very gentle, and doesn't sting my eyes,
- the price is affordable,
- you can find the brand quite easily.
Cons
- I'm not a fan of the texture, both not rich enough and too greasy,
- the texture lacks sensoriality,
- the formula is fragrance-free but I don't like its natural smell, it smells like grease,
- it doesn't remove makeup very well, especially mascara,
- it doesn't rince off very easily (unless I use a cloth, which I don't like to do), and it leaves a small greasy film on top of my skin (it doesn't emulsify very well).
product name
Oat Cleansing Balm
brand name
The Inkey List
packaging
A squeezy tube in white and black plastic, very simple and practical.
fragrance
Fragrance-free but smells like natural oils (and a bit like grease).
texture
A balm that melts fairly quickly on the skin and turns into oil. I don't find it as luxurious as I expected, and it doesn't rinse off very well, it tends to leave a slight greasy film on the skin after rinsing if I don't use a damp cloth.
For Who
All skin types, all ages.
Concerns
To remove the makeup (including waterproof products), sunscreen products and pollution dust (you can't remove them with a cleansing gel, it's better to use oil to "break " them).
Method
I use the Oat Cleansing Balm in the evening at the very beginning of my skincare routine. I always do a double cleanse when I wear make-up and/or sunscreen. The Oat Cleansing Balm is my first step in the double cleansing process.
I take a dime size amount of product and apply it to my face, neck and eyes, on my dry skin. The balm melts very quickly on contact with the skin and it becomes more liquid, like an oil. I massage it gently with my fingertips to dissolve makeup and impurities.
I rinse my hands and run my wet hands over my face, neck and eyes so that the product can emulsify (= I gently massage my skin in circular movements). It turns into a fine milky emulsion. I finish by simply rinsing it off with lukewarm water. I find that it doesn't rinse super well, it tends to leave a slight greasy film on my skin after rinsing if I don't use a damp cloth. And I'm not a big fan of cloths for removing my cleansing balm, I find that it always rubs my skin, even the softest ones.
For the second step of the double cleansing, I then proceed to cleanse my skin with a gentle foaming product.
Key Ingredients
The formula is quite simple and short.
It contains mainly oils to dissolve impurities (sweet almond oil, sunflower oil, oat kernel oil and Candelilla wax) and emulsifiers to make it easier to rinse off.
There are also oat extracts (colloidal oat and oat kernel oil) for their soothing effect.
Ingredients
Prunus Amygdalus Dulcis (Sweet Almond) Oil, Cetearyl Alcohol, PEG-6 Caprylic/Capric Glycerides, Avena Sativa (Oat) Kernel Oil, Candelilla Cera (Cire de candelilla), Silica, Sorbitan Stearate, Tribehenin, PEG-60 Almond Glycerides, Avena Sativa (Oat) Kernel Flour, Aqua (Water/Eau), Benzyl Alcohol, Phenoxyethanol, Lecithin, 1,2-Hexanediol, Ascorbyl Palmitate, Tocopherol, Biosaccharide Gum-4, Helianthus Annuus (Sunflower) Seed Oil.
Ingredients not included
– Mineral oil,
– Alcohol,
– Silicones,
– Dyes,
– Fragrance,
– Essential oils.