Intro
Discover my detailed review of the Lapis Facial Oil, from the American "clean" brand Herbivore Botanicals.
I have a complicated relationship with the American skincare brand Herbivore… Although I'm not a fan of their communication approach, I have to admit that I really like some of their products. Case in point, the Lapis Facial Oil, which is probably one of the best facial oils I've ever tried!
My test of their Pink Cloud moisturizer was not conclusive but I'm very fond of their Phoenix facial oil, a real joy to use (certainly a very luxurious one, I must say).
As I've already explained several times, I don't really agree with the way they communicate about their products, focusing on the fact that their products are "non-toxic" (see my article explaining my stance on the topic).
Despite all this, the Lapis Facial Oil was still a product I really wanted to try!It contains one of my favorite skincare ingredients, Blue Tansy oil that I discovered with May Lindstrom, and the famous balm The Blue Cocoon.
I started to use the Lapis Facial Oil a few months ago now. Let me explain why I have a crush on this facial oil!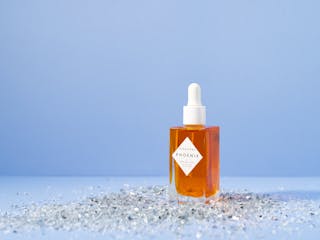 Skincare
Review: Herbivore Phoenix Facial Oil
My first experience with the brand Herbivore wasn't a success, as you may remember. However, not being one to give up and surrender, I still wanted to try one of their most popular products, Herbivore Phoenix Facial Oil.
Read more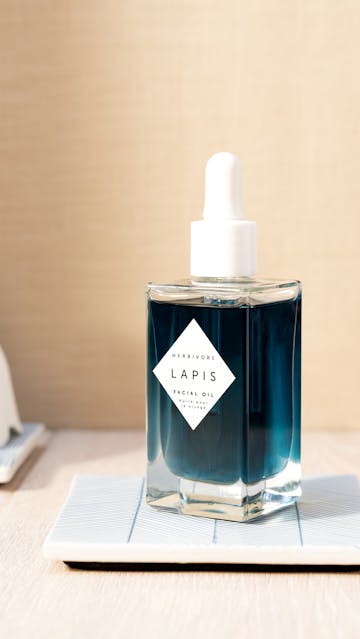 My review:
Herbivore is a skincare brand known for its face oils, which are blends of natural oils, plants extracts, and essential oils
They have the reputation of being very pleasant to use, super luxurious and they generally have a very nice list of ingredients.
It is indeed a good description of their pretty blue Lapis Facial Oil, the balancing face oil from the brand.
This product is kind of an oily serum, formulated to balance and soothe sensitive and/or those with acne-prone skin.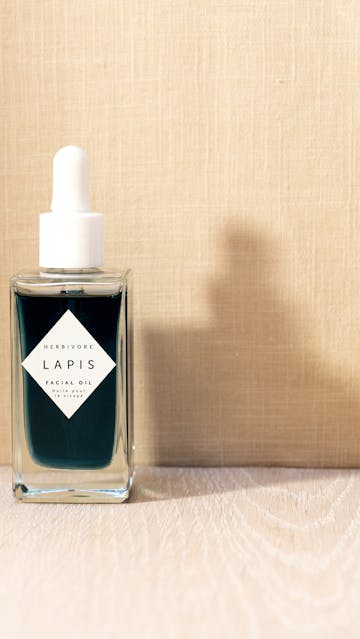 The Herbivore Lapis oil contains two natural oils that my dehydrated combination skin loves: squalane oil (I already talked about it in my review of the Indie Lee's face oil) and jojoba oil. These two oils have the particularity of being naturally close to the sebum found on the skin. They are therefore very effective in protecting and nourishing the skin without greasing it!
Its secret weapon is the Blue Tansy oil, that I'm obsessed with. It has powerful soothing properties thanks to its chamazulene content (it gives the Lapis facial oil its blue color, no dyes have been added to the formula).
It has the particularity of being very aromatic, and I love this scent!
The Lapis facial oil is really lightweight in texture, it's perfect when used as a serum, just before my night cream because my skin absorbs it super quickly. It doesn't remain at all on the surface of my skin as with some thicker oils.
I've been using Lapis for almost 4 months now and I love it! Its texture is perfect for the season, and above all, I can't get over how great its smell is!
I also find it effective for the soothing effect, which is very enjoyable on my skin warmed by the heat and uncomfortable because of the air conditioning!
For its balancing action, I imagine it helps, but I rely more on my acids, my Niacinamide serum, and my retinol!
Lapis doesn't contain preservatives, and the brand recommends using within 1 year of opening it, which should not be a problem for me. I still have a lot left, I think it will last me at least 4 other months!
Like the other products in the Herbivore range, it's quite expensive ($72 for 50ml)… But I must admit that I have trouble remaining objective on this one, because I absolutely adore it!
It also exists in a travel size (8ml) if you want to test it before purchasing the larger format.
That being said, if you are interested, the brand and its distributors regularly run promotions, so it may be worth waiting for such a promotion to get it 😉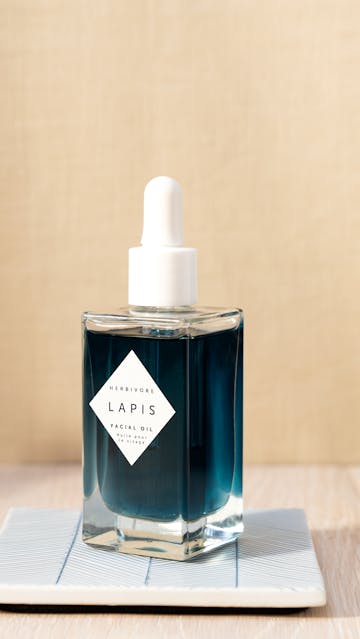 In conclusion:
I've fallen in love with the Lapis Facial Oil from Herbivore. It's really super pleasant to use, its texture is a real joy and it just smells so good! I also really appreciate its soothing effect.
It's definitely not cheap but it's a luxurious product that I particularly appreciate in my evening routine, I must admit…
The Herbivore Lapis Facial Oil retails for $72 for 50ml (it also exists in 8ml format).
Product Review in detail
Summary
Herbivore Lapis Facial Oil
"A hydrating face oil to balance skin while improving visible redness and blemishes."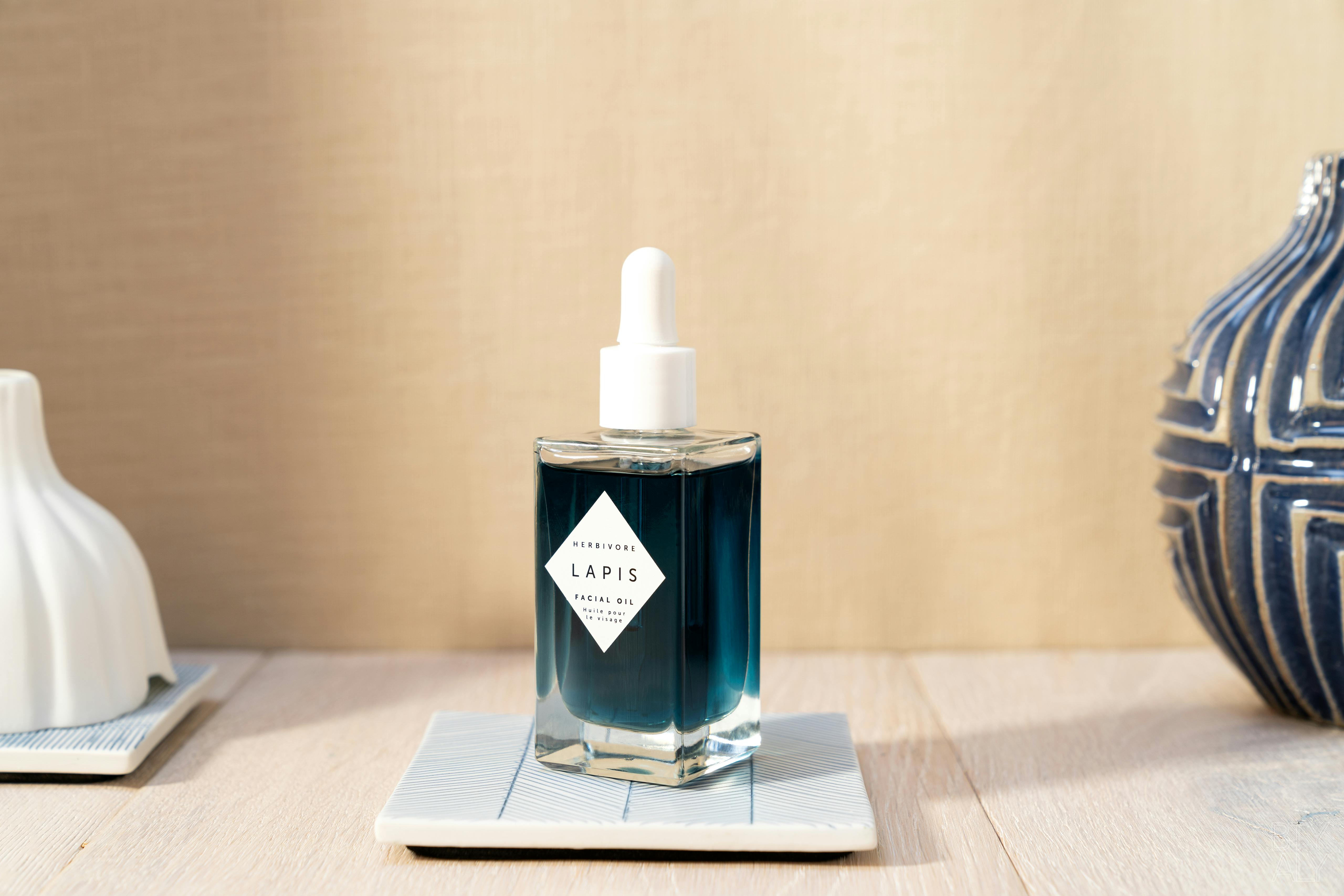 Recommendation
A
I love this product (its price less)
Pros
- the bottle is really pretty and very luxurious,
- it has a very nice formula, quite short and with great ingredients,
- it has a divine scent (I love the smell of blue tansy!),
- its ultra-fine and lightweight texture, which is absorbed by my skin very quickly,
- it's perfect to retain moisture, without greasing the skin,
- it leaves my skin comfortable, and soothed,
- it's balancing, it helps to purify my skin.
Cons
- it's definitely expensive to buy, even if the 50ml bottle lasts a long time (that being said, it also exists in a small 8ml format, if you want to try it before the big one),
- like all the brand's products, it doesn't contain any preservatives, so it's better to use it right away (but mine has been open for more than 3 months, and I haven't noticed any change, either in its color or its scent...).
product name
Lapis Facial Oil
packaging
A very luxurious glass bottle, with a pipette to dispense the product.
fragrance
A divine blue tansy scent (I love it!)
texture
A very fine and lightweight oil, which leaves the skin comfortable (without being greasy).
For Who
– dehydrated skin,
– combination skin,
– oily skin,
– sensitive skin,
– acne-prone skin.
Concerns
– dehydrated skin,
– clogged skin,
– dull complexion,
– breakouts,
– redness.
Method
You can use the Lapis Facial Oil morning and evening but I apply it in the evening for its purifying effect.
After applying my serum(s), I use 3 to 5 drops of oil and massage my face and neck with it for about 1 minute. Once it's absorbed, I apply my night cream on top.
Key Ingredients
In the Lapis Facial Oil, you can find:
– jojoba oil and squalane oil, naturally close to the sebum found on the skin. These two oils are therefore very effective in protecting and nourishing the skin without greasing it.
– Blue Tansy oil: this gives the Lapis Facial Oil its so pretty blue color! With powerful soothing properties thanks to its high chamazulene content, it's very calming and healing. It also helps to provide comfort to sensitive skin.
– Kukui nut oil: an ideal oil for combination to oily skin, because it's lightweight and also has interesting anti-inflammatory properties for sensitive and/or acne-prone skin.
– antioxidant vitamin E.
It also contains fractionated coconut oil (Caprylic/Capric Triglyceride), so be careful if you are sensitive to this ingredient which may be comedogenic for some people (I haven't had a problem with it).
Ingredients
Squalane, Simmondsia Chinensis (Jojoba) Seed Oil, Caprylic/Capric Triglyceride, Aleurites Moluccanus Seed Oil, Tocopherol, Tanacetum Annuum Flower Oil, Jasminum Sambac (Jasmine) Flower Extract, Rosa Damascena Flower Extract.
The bold ingredients are certified organic.
Ingredients not included
– mineral oil,
– synthetic fragrance,
– dyes,
– silicones,
– according to the brand: without additives, "harmful" chemicals or preservatives (you know my stance on this topic).