Intro
Let me tell you more about my current evening skincare routine, with its skin goals, the ingredients I prefer to use and the application order of the different steps!
I introduced you to my morning routine last week, so I thought we'd keep the fun rolling with my evening routine! In this week's article, I describe its goals, the ingredients and which products I prefer to use at night, with the steps' order of my anti-ageing layering skincare routine.
Clearly (but you were expecting it, I know it), it's not a minimalist routine either!
I don't really have more products than in my morning routine, you'll see. But the complexity of this routine lies in the fact that I don't do the same thing every night.
And to tell you the truth, it's also a changing routine at the moment. As I've already mentioned several times in my posts, I'm trying to find a balance with the use of my retinoid and my exfoliating acids.
I had to slow down the exfoliation with the latter because my skin doesn't tolerate them as well as it used to. But I don't want to stop completely because I know they work miracles on my skin texture.
So I've been experimenting with different combinations of steps. I'm trying out stuff! But that's part of a skincare routine sometimes, it's not always consistent. It can vary depending on your skin and what it "tells" you…
I'll try to explain my experimenting the best I can! (I told you it'd be a lot of fun 😜).
My current morning routine
Well, my friends, it looks like everything can happen at the moment, apparently! I've finally decided to share my morning skincare routine (and maybe I'll even write a second article with my evening routine, let's go crazy!). Let me show you the skincare products I'm using at the moment!
Read more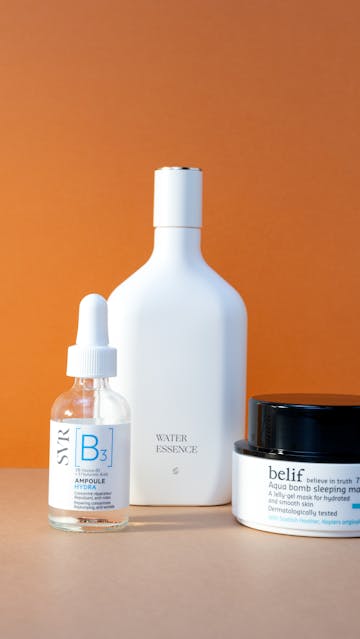 My evening skincare routine goals:
In the evening, I want to cover a lot of ground with my routine!
Indeed, this is the time when I can go deeper with my skin treatments because during the night, the skin is at rest and can therefore benefit the most from the different anti-aging products I'm using!
In the evening, I start by deep cleansing my skin with a double cleansing step, then I help my skin to regenerate by using exfoliating acids or a retinoid (sometimes both at the same time), I always hydrate and moisturize my skin (just like in the morning), and I also use my different specialized treatments (I alternate depending on my skin needs at the time).
In short, the goals of my evening routine are these ones:
makeup removal and thorough skin cleansing,
more glow,
improving the texture of my skin,
anti-aging,
hydration,
moisture,
repair,
soothing (if necessary),
purifying (if necessary).
Yes, I know, that's a lot of goals… And as a result, you guessed it, there are a lot of steps in my evening routine!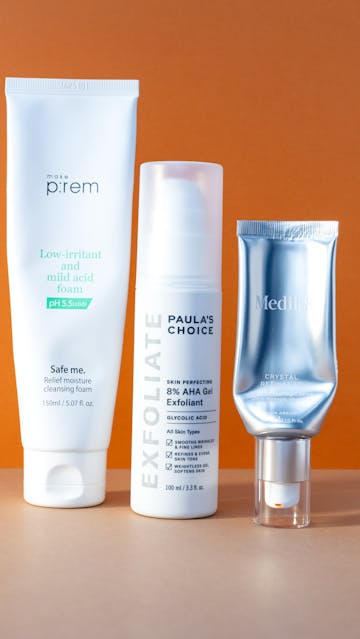 My evening skincare routine's steps and the ingredients I prefer to use:
As for the morning, there are steps that I do consistently every night and those that vary according to my current skin needs.
1) My essential steps:
– removing makeup and deep cleansing my skin to rid it of all the impurities accumulated during the day.
– giving radiance to my complexion, generally thanks to exfoliating acids (which also help my skin to regenerate and also have an anti-ageing action as well), but also fermented ingredients and niacinamide for example.
– improving my skin texture with ingredients that help to smooth my skin, and reduce the size of my visible pores (niacinamide is my favourite ally, but exfoliating acids also help with that).
– treating the signs of ageing with well-known and effective anti-ageing ingredients (my favourite: retinoids and peptides, but there are many more!).
– hydrating my skin, as I do in the morning, to make it look more plump, with ingredients such as hyaluronic acid, beta-glucan, glycerin…
– repairing and moisturizing my skin with more nourishing ingredients such as vegetable oils (marula, squalane, hemp oil etc), ceramides etc.
2) My variable steps:
– soothing when my skin feels sensitized with calming ingredients such as Centella Asiatica, mugwort, propolis or probiotics, for example.
– purifying it when I have breakouts with anti-bacterial ingredients (Centella Asiatica, mugwort, or propolis also work very well for this issue).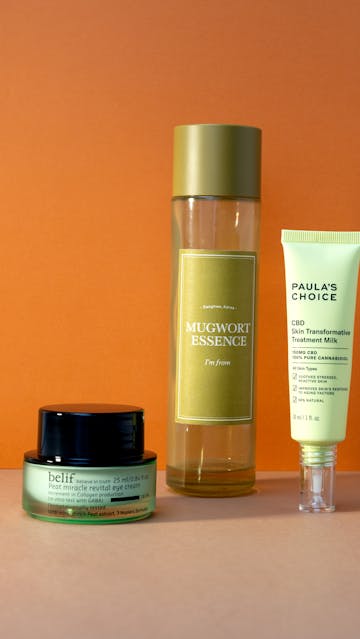 My evening skincare routine steps' order:
And this is where things can get a little complicated. Because the steps are not necessarily the same every day…
Basically, I don't use my retinoid and my acids every night together because that can be too much. And I've been trying to find a balance between those two categories of ingredients for several months now.
I refuse to favour one over the other because in my opinion they don't work on the same thing for my skin. Acids have a more immediate smoothing and radiance effect, which I'm interested in to even out the texture of my skin. Retinoids help to re-densify the skin and diminish the signs of aging, reduce pore size and give a longer-lasting glow.
The downside is that if you overuse them and use them too often together, you can end up with sensitized skin!
For the past few weeks, I've been trying to find the right pace with the frequency of application of these ingredients. The goal is to use them often enough for them to be effective, but not too often either, otherwise the combination of the two becomes too irritating for my skin.
Basically, at the moment, I use my exfoliating acids 3 times a week: a BHA twice a week and an AHA once. I use my AHA/glycolic acid alone/ without my retinoid on the weekend, because I can't use both in the same routine, otherwise my skin hates me the next day.
As for the retinoid routine, I'm at 5 applications per week and I take a two-day break on the weekend.
I've been doing this for a few weeks now and I feel like it's working well. I'm seeing results and my skin is not too irritated right now.
In short, you need to consider my evening routine over a week, since I alternate between different treatments.
So basically, this is what it looks like (between 10 and 14 steps):
a) Double cleansing steps:
➢ Cleansing oil or balm to remove the makeup
➢ Water-based foaming cleanser
Note:
If I decide to do a purifying mask, this is where I usually use it. I usually do this on Sunday nights, if I feel like it.
a*) Exfoliating step:
➢ BHA acid toner twice a week (Tuesday and Thursday).
➢ glycolic acid gel once a week (Saturday)
b) Treatment and hydration steps:
➢ Soothing and purifying essence
➢ Moisturizing and brightening essence
➢ Moisturizing and anti-aging eye contour serum
➢ Moisturizing and brightening face serum
➢ Repairing and anti-aging serum
Note:
If I decide to do a sheet-mask, this is where I usually use it.
b*) Anti-aging treatment/retinoid step:
➢ retinal serum (Monday to Friday)
c) Comfort/ Moisturizing steps:
➢ Nourishing facial oil
➢ Nourishing and anti-aging eye contour cream
➢ Nourishing evening moisturizer
d) Extra comfort/ moisturizing step +++ (optional):
➢ Sleeping mask
Told you it was complicated, didn't I? I didn't lie 😜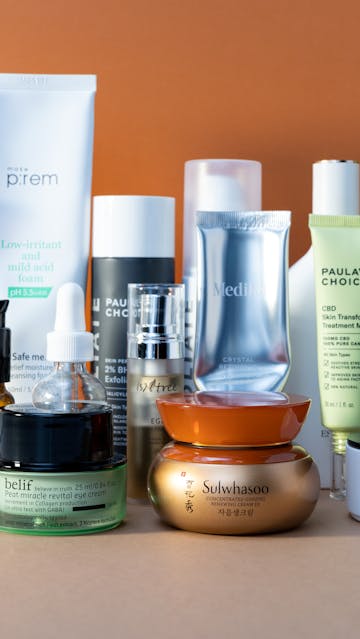 My evening skincare routine, the detail and the products:
The links in the product descriptions are my corresponding reviews (when they're available 😉).
Makeup removal:
At the moment, I have decided to use all my favorite skincare products, because I was apparently waiting for a special occasion. Indeed, what better reason than a global pandemic to use your luxury skincare while you are self-distancing at home, don't you think? 😜
The Shu Uemura Ultime8∞ Sublime Beauty Cleansing Oil is clearly one of them.
I wanted to write a full review of this product but the brand has become so hard to find, even online, that I'm not sure it's a great idea. I purchased this bottle last time I went to Seoul, in the duty-free, several months ago.
In short, it's my favourite luxury cleansing oil: a fine and silky texture, an unbeatable efficiency, a nice list of ingredients with precious oils… Yes, it's quite expensive, and hard to find. But if I see it somewhere, I always pick up a bottle!
I raved about Shu Uemura cleansing oils in my Shu Uemura Nutri:nectar review if you want more info 🙂
Cleansing:
I'm currently finishing the Make P:rem Safe Me. Relief Moisture Cleansing Foam that I told you about a few months ago. I'm going to try something else out of curiosity but I have already used 2 tubes and I liked it very much!
Exfoliation with acids:
This step is complicated for me right now! I had to stop using my favorite Biologique Recherche Lotion P50 last year, when I intensified my retinol usage a bit.
I can use my favourite Paula's Choice BHA Liquid Exfoliant, which I love, twice a week, even with a routine containing my retinoid.
But with the AHAs, which I love for their immediate smoothing properties, I can't use them more than once a week, and I can't use them with a retinoid in the same routine. Right now, I'm testing the Paula's Choice Skin Perfecting 8% AHA Exfoliating Gel (with glycolic acid). I like its smoothing and brightening effects but I'll have to report back to you after I've tested it further.
Note:
I use my acid products only 3 times a week (Tuesday and Thursday: my BHA and Saturday: my AHA) and leave them on for 2-3 minutes before moving on to the next part of my routine.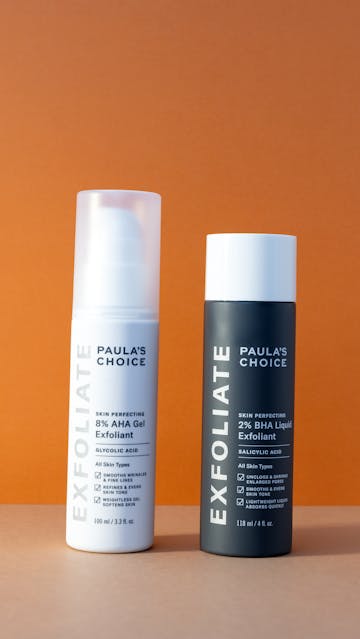 Soothing essence:
This is the one I told you about a few days ago, the I'm From Mugwort Essence. I'm in the process of finishing it!
It helps to soothe my skin with the mugwort extract and I love its herbal, medicinal, Korean scent! It's also a bit viscous and leaves my skin feeling comfortable.
Brightening and moisturizing essence:
Well, I hesitated a bit to tell you about it, because this product is completely unavailable unless you go to Seoul (sorry, don't hate me 😬).
Tambourins is an exclusive Korean cosmetic brand that belongs to the Gentle Monster group, known for its luxury eye-wear. The Tambourins shops are insane, they look more like art galleries than cosmetics shops. I showed one in my stories on Instagram last year, they're still visible if you're curious.
I bought their Water Essence because the bottle is to die for (super chic minimalism 🤩), I liked the formula and it wasn't overpriced (around $30). It contains hyaluronic acid, niacinamide, galactomyces, Centella Asiatica… Its texture is a bit gel-like and very refreshing (it's also fragrance-free). In short, it's a very pleasant product. If you plan to visit Seoul one day, I definitely recommend to check it out! 🙂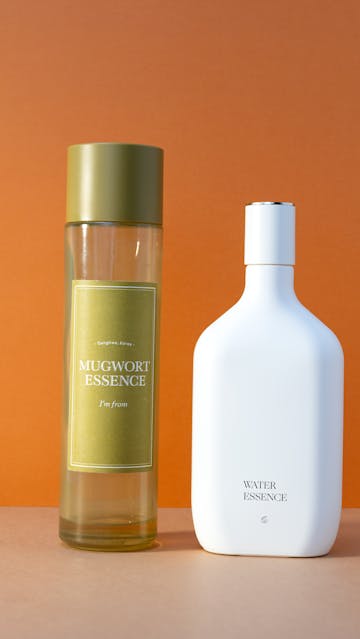 Anti-ageing eye contour serum:
I'm gonna have to dedicate a full review about this product! The Ferulic + Retinol Eye Serum by Dr Dennis Gross is a moisturizing and anti-aging serum with retinol (among others ingredients).
I'll have the opportunity to tell you more about it soon 🙂
EDIT: my review of the Ferulic + Retinol Eye Serum by Dr Dennis Gross is now available! 🙂
Moisturizing, soothing and anti-aging serum:
The last time I went to France, I purchased the Hydra B3 Ampoule from SVR Laboratoires, that contains mainly hyaluronic acid (3 different molecular weights) and niacinamide (dosed at 5%).
It's a very nice product! Effective on hydration, and I also find it soothing. I was told that the texture was very sticky but I think it's fine. On me in any case, it absorbs well! I like its practical 2 in 1 effect, because I usually use a serum with hyaluronic acid and another one with niacinamide (my favourite, Paula's Choice 10% Niacinamide Booster). If I had to criticize it a bit, I don't find it as effective as the Paula's Choice on the pores size's reduction. In short, if you're in France (or in Europe) and you have easy access to it in a pharmacy, I would recommend checking it out 😉.
Repairing and anti-aging serum:
I was going to review this product but the brand just discontinued it, so you won't be able to find it anymore… It's the Isntree EGF Repair Ampoule Serum, an anti-aging and soothing product based on peptides and Centella Asiatica. It has been reformulated, I'll try to get the new version to tell you more about it!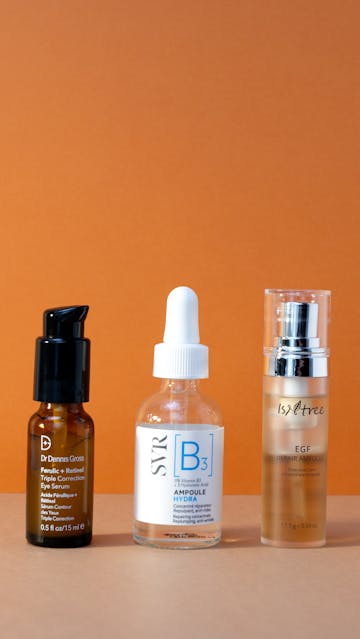 Retinoid:
Yes, I've changed the way I use my Medik8 Crystal Retinal 10!
I now use it on top of my serums and before my facial oil. My skin tolerates it better, so I've taken it to the next level (I talk about all this in detail in my article about the use of retinoids if you want more information).
Note:
I try to wait at least ten minutes to let my retinoid work its magic before applying something else on top.
Soothing oil-based serum:
Paula's Choice CBD Skin Transformative Treatment Milk really deserves a dedicated review! I really enjoy it, especially in combo with my retinal, it's a great duo for anti-aging and soothing effectiveness.
I'm not sure yet if the product is launching outside the US, but I'm still thinking of dedicating an article to it, because CBD is an interesting topic!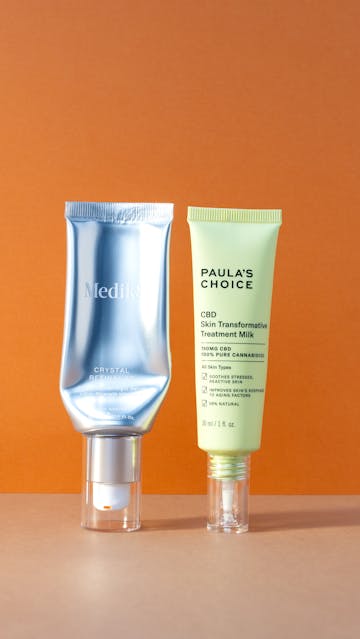 Eye contour cream:
I've been wanting to try this Belif Peat Miracle Revital Eye Cream for years! Among K-Beauty addicts, it's often compared to Sulwhasoo's cult ginseng cream (more info on this one below). Like the latter, this rich, balmy eye cream also contains plant extracts and oriental herbs.
In fact, the main ingredient of this cream is peat. Oddly enough, peat turns out to be a super interesting anti-aging ingredient, with antibacterial, anti-fungal, astringent and photo-protective properties when used topically. It actually contains GABA (aminobutyric acid), which is believed to help stimulate collagen production. Peat is known to allow organic waste to remain in the mud for a long period of time, thanks to its antibacterial and anti-fungal properties. A bit like the principle of mummification, in short!
I started it a few weeks ago, I will continue to test it and will tell you more about it in a future review! 🙂
Night cream:
In the past, I had the opportunity to try Sulwhasoo's cult favorite Concentrated Ginseng Renewing Cream many times thanks to (luxurious) samples. But the last time I went to Korea, I finally decided to purchase the full size in duty-free. And I decided to keep it aside for a bit, because I wanted to use it this winter.
Clearly, it's an investment, it costs a pretty penny. I also want to write a full review about it because I have a lot to tell, and not only about its (outrageous) price. I can already tell you that it's my favourite luxury night moisturizer in the entire world, nothing less. I refuse to think about the day it'll be empty.
To save it, I alternate it with Paula's Choice's wonderful Omega + Complex moisturizer, which is amazing and much more affordable! My detailed review is available here: Paula's Choice Omega + Complex moisturizer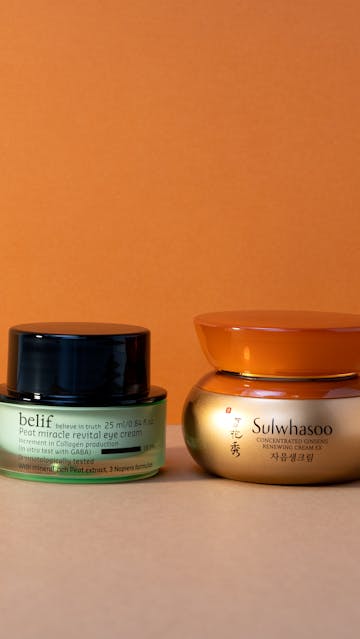 Sleeping mask:
And if my skin feels drier than usual, I substitute my night moisturizer with a sleeping mask, or even add it on top of my whole routine!
My favourites at the moment:
– LANEIGE Cica Sleeping Mask (my review).
– Dr Jart+ Cicapair Sleepair Ampoule-In Mask (my review)
– Belif Aqua Bomb Sleeping mask: a super-fresh, moisturizing and soothing jelly sleeping mask with a "memory" texture. But it seems to me that the packaging has changed, I wonder if the brand has reformulated it (I bought it in Korea last June).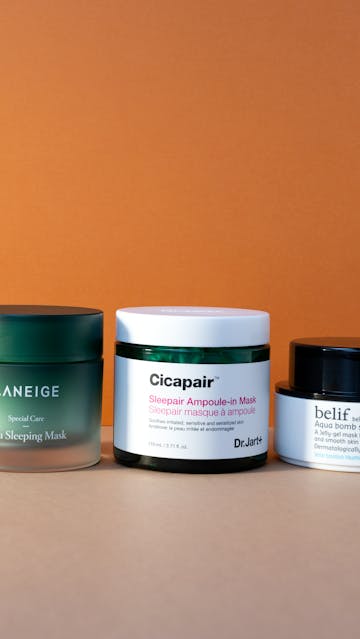 A few comments:
My evening routine takes me 20 to 30 minutes, clearly because I take my time. It could be much faster (but where would be the fun in that 😜).
I don't use my skincare devices in the evening but I spend some time massaging the products (with my hands) for a nice relaxing effect.
Like in the morning, I try to apply my products from the lightest to the thickest texture.
As you've seen, it's a more complex routine than my morning one because I don't use the same products every day. I also pay a lot of attention to how my skin feels from day to day. If it feels a little more sensitive than usual, I usually skip the acids and/or the retinoid.
As for the morning, I change my products once they're empty in order to have a stable routine for as long as possible. My routine lasts about 3-4 months with a few product adjustments from time to time.
In conclusion:
That's my evening routine!
Clearly, I know it's very extra at the moment, with all my impossible to find or super expensive K-beauty products… It could very well be a "self-quarantine"/ "the end of the world is near, let's just use all my fancy products" routine! 😂😂😂
But I hope it will be helpful for you to know how I select my products or at least, that this post will distract you a little in these complicated times ❤️